Cast Members
Eddie Campbell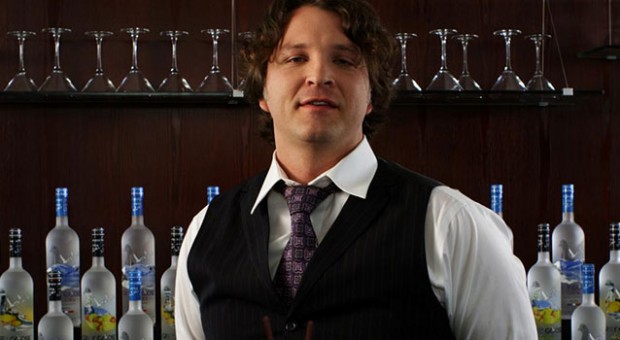 Eddie "Lucky" Campbell is the resident Barman at Bolsa, Dallas's nationally acclaimed market fresh restaraunt that proudly serves a seasonally rotated, 21-drink, artisanal cocktail menu. Classically trained and specializing in modern flavor profiling, culinary techniques, and creative program design, Eddie's cocktail programs have had a lasting role in many of Dallas's local hot spots.
An advocate of the freshest and highest quality ingredients, as well as ambitions to create drinks that are fun and interesting, one can expect to be served Aviations topped with Violette Foam, Reconstructed Champagne Cocktails, vintage egg white cocktails with messages spray-painted over their surface, springwater ice cubes, and Islay Scotch soaked-blue cheese stuffed olives. Through ongoing involvement in organizing local cocktail events, Eddie formed Lucky Cocktails, a passion-based company that handles many of Dallas's most influencial events, as well as offers staffing assistance and free consulting to a selective local audiance. Holding court daily with an interactive and educational style of bartending, Eddie is considered a leader in the Dallas market, and was recently named Reader's Choice: Best Bartender in Dallas, by D Magazine.
Before bartending, Eddie was a bicycle messenger in Was hington D.C., where he earned a hard knocks degree in communicating with all walks of life. After moving to Dallas in 2002, Eddie took a barbak job on rowdy Greenville Ave, and within 2 years had achieved a lead bartender position at the internationally acclaimed 5 star Mansion on Turtle Creek. Eddie's first true bartending position was behind a bar that had been purchased in auction and was the actual bar that The Beatles drank at.
His unique path has landed him in such rooms as The Jockey Club at the horsetrack in Grand Praire, The Samba Room, Culpeppers, Medici, The Catalina, The Club, Jasper's, Charlie Palmer, The Mansion Bar, and Bolsa. Over the years, Eddie has served a star-studded line up of guests that include Tom Jones, Andrew Lloyd Webber, Robert Redford, Manalo Blanik, the Saudi Arabian Royal Family, President George Bush senior, Troy Mcknabb, and many others, all the while maintaining that the most important guest is the one sitting in front of him.
Eddie "Lucky" Campbell believes in old school values and trains his coworkers under the premise that success in the hospitality business completely revolves around the guests and their experiences. Inspired by his heroic father, who taught him to be considerate of everyone's needs, and his mother who loves to entertain, Eddie focusses his energy on improving guest experiences. Through these practices, Eddie has been an intricate part in creating great bar programs, and lives by one code..."May our only limitation be Maximum Occupancy".