Cast Members
Michael Kenneth WilliamsPlays Leonard Pine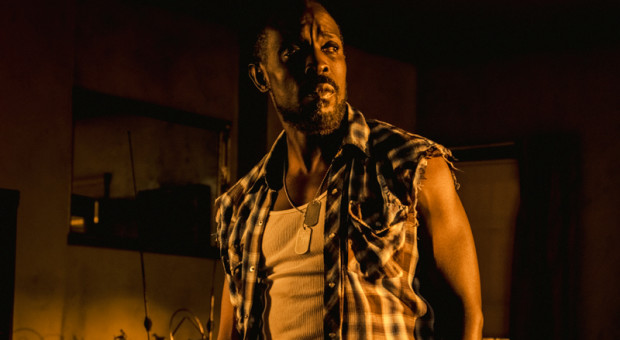 Michael Kenneth Williams is one of this generation's most respected and acclaimed actors. By bringing complicated and charismatic characters to life - often with surprising tenderness - Williams has established himself as a gifted and versatile performer with a unique ability to mesmerize audiences.
Williams is best known for his remarkable work on The Wire, which ran for five seasons on HBO. The wit and humor that Williams brought to Omar - the whistle-happy, profanity-averse, drug dealer-robbing stickup man - earned him high praise and made Omar one of television's most memorable characters.
Williams co-starred in HBO's critically acclaimed series Boardwalk Empire, which premiered in 2010. In the Martin Scorsese- and Terence Winter-produced show, Williams played Chalky White, a 1920s bootlegger and impeccably suited veritable mayor of Atlantic City's African-American community. In 2012, Boardwalk Empire won a Screen Actors Guild Award® for Outstanding Performance by an Ensemble in a Drama Series.
He was recently seen playing the role of Freddy in the acclaimed HBO limited series The Night Of, opposite Riz Ahmed and John Turturro; the series was written by Richard Price and Steve Zaillian, who also directed the episodes. Williams recently wrapped the ABC limited series When We Rise from Dustin Lance Black and Gus Van Sant, set to air in February 2017. The series dives deep into the LGBT and Civil Rights movements that have taken place over the past few decades in San Francisco. In a turn from his more serious roles, Williams starred in the IFC comedy mini-series The Spoils Before Dying alongside Will Ferrell, Kristen Wiig and Maya Rudolph.
Williams made his feature film debut in the urban drama Bullet after being discovered by the late Tupac Shakur. He also appeared in Bringing Out the Dead, which was directed by Martin Scorsese. His other film work includes roles in The Road, Gone Baby Gone, Life During Wartime, Brooklyn's Finest, Wonderful World and Snitch, opposite Dwayne Johnson and Susan Sarandon. He was seen in José Padilha's remake of RoboCop, starring Joel Kinnaman, Gary Oldman and Michael Keaton, and in a supporting role in Steve McQueen's Oscar®-winning 12 Years a Slave with Michael Fassbender and Brad Pitt. He also appeared in The Purge: Anarchy, the successful sequel to the box office-booming The Purge, as the resistance leader Carmelo Johns.
In 2014, Williams filmed Captive opposite Kate Mara and David Oyelowo and Kill the Messenger opposite Jeremy Renner, as well as Paul Thomas Anderson's film Inherent Vice. He also found time to reunite with director John Hillcoat in Triple 9, with Chiwetel Ejiofor, Woody Harrelson and Anthony Mackie, and appear in the Sundance film The Land. Williams also starred opposite Mark Wahlberg and John Goodman in Paramount's remake of The Gambler and in the HBO Films movie Bessie, opposite Queen Latifah, for which he garnered an Emmy® nomination for Best Supporting Actor.
Williams was recently seen in the Paul Feig-directed Ghostbusters reboot opposite Melissa McCarthy, Kristen Wiig, Kate McKinnon, Leslie Jones and Chris Hemsworth, and in New Regency's Assassin's Creed, based on the popular video game, opposite Michael Fassbender and Marion Cotillard and directed by Justin Kurzel.
Giving back to the community plays an important role in Williams's off-camera life. He is working to launch Making Kids Win, a charitable organization whose primary objective is to build community centers in urban neighborhoods that are in need of safe spaces for children to learn and play. Michael currently serves as the ACLU's ambassador of Smart Justice.
Williams also executive produces and serves as the investigative journalist for Black Market, a documentary program that exposes and comments on illegal markets throughout the world with a focus on the people involved and connecting with them on a human level. Black Market is a flagship show for Vice's newly launched network VICELAND.
Williams currently resides in Brooklyn.
More on Michael Kenneth Williams