HAP AND LEONARD: MUCHO MOJO Season Recap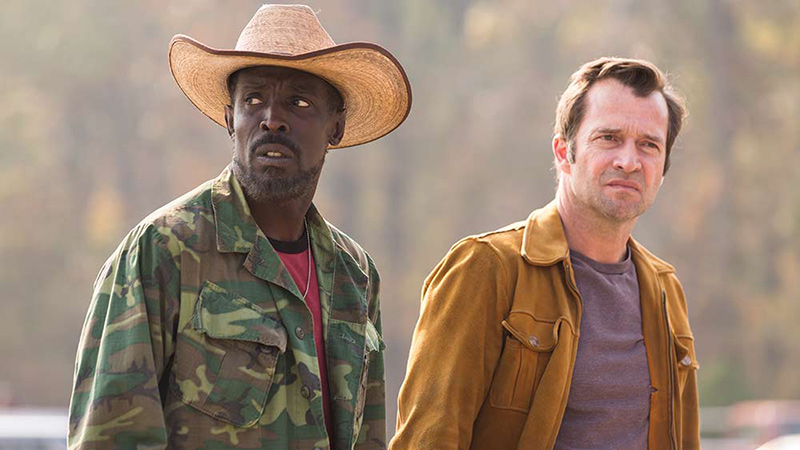 Leonard and Hap discover a boy's skeleton underneath Leonard's house along with red sneakers bearing the letters "B.B." Detectives Marvin Hanson and Charlie Blank interrogate Hap and Leonard, who learn that no shoes were found at the crime scene.
Leonard's lawyer Florida Grange tells Leonard that the police will probably pin the murder on Leonard's Uncle Chester, who owned the house where the body was buried before Leonard. Hap and Leonard spend the night at MeMaw's house and meet her grandsons, TJ and Reverend James Fitzgerald.
Leonard finds a runaway boy, Ivan, overdosing at his house. He promises his romantic partner, Raul, that he will look after Ivan until his family is located. Ivan runs away but is captured by Leonard's neighbor Melton. Melton orders Ivan to return to Leonard's house and plant evidence that would frame Leonard for the boy's murder.
Police arrest Leonard after Melton identifies him in a lineup as Chester's associate. Meanwhile, Illium Moon retrieves a hidden lunchbox from Leonard's house.
Hap and Florida speak to the mothers of locally missing boys and learn that Chester already questioned them about their boys' disappearances.
While in jail, Leonard receives a cryptic visit from Illium, who places voodoo protection around his cell.
Judge Beau Otis denies Leonard bail and sets a trial date. Hap corners Beau and tells him that his father and Leonard's father were killed by Beau in a drunken incident years ago. He threatens to expose Beau's secret if he doesn't grant Leonard bail. Beau gives in.
Hap and Leonard drive to Illium's house and learn that Illium was helping Chester investigate the missing boys. Illium gives them the evidence that he and Chester gathered, including a necklace with the initials "B.B." Worried that Hap will bring police to his home, Illium later flees his shack and accidentally drives into the lake near his home. Hap and Leonard find Illium dead in the lake and also find an iron gate with B.B.'s skeleton hands attached.
In a flashback to 1928, Klansmen burn down a church and the Sunday school children inside it. A young girl playing hide-and-seek witnesses the horrific scene.
Hap and Leonard visit Cooperstown to investigate the missing boys and to look for a fence without a gate. Stella, a local mother, recognizes a photo of the gate from the church where her grandparents got married.
Beau threatens Hap for meddling in Leonard's case. Hap retaliates by sabotaging Beau's car and then menacing him with a crow bar.
Ivan sneaks out of Leonard's house after removing the incriminating evidence. Officer Sneed kidnaps Ivan and takes him to Melton. Leonard learns that Officer Sneed enlisted Melton to frame Leonard after Sheriff Valentine Otis ordered his department to pin the boy's murder on Leonard. Leonard finds Ivan and burns Melton's house down.
Hap and Florida make love in his truck.
At MeMaw's house, Leonard spots a photo of a young MeMaw — the same girl playing hide-and-seek in the 1928 flashback — with her Sunday school class at the Old Hope Church. The church gate is the same gate that he and Hap found in the lake.
Detectives Hanson and Blank witness Sheriff Valentine secretly placing the red shoes in B.B.'s body bag at the morgue.
Hap and Leonard track down the location of the Old Hope Church and discover a room of pine caskets containing 13 dead boys — each casket marked with years dating back to 1977. The current year, 1988, is empty, leading them to believe the killer will soon strike again. They realize each boy died the third Saturday of October and that all the boys lived along a local bus route. They follow the bus to the terminus and end up at the annual Harvest Carnival.
Hap becomes Detective Hanson and Blank's prime suspect after they guess he is blackmailing Sheriff Valentine. They become further convinced of Hap's guilt when they find his workroom at Fernie's filled with news clippings and photos pertaining to the missing boys.
Hap and Leonard look for potential suspects at the carnival. Reverend Fitzgerald tells Leonard that Ivan was seen getting into a car with a stranger. The police corner Hap at the carnival but Hap escapes with Leonard on a horse.
Hap and Leonard go to the Old Hope Church and find TJ and Reverend Fitzgerald with an unconscious Ivan. Reverend Fitzgerald confesses to killing boys who he deems "lost souls." When the police arrive, Reverend Fitzgerald shoots himself. Detective Blank shoots TJ dead. MeMaw dies upon learning the news about her grandsons.
Hap and Leonard realize that B.B. was not one of Reverend Fitzgerald's victims and continue to hunt for B.B.'s killer. Upon learning that Sheriff Valentine stole the red shoes from the crime scene, they begin to investigate the sheriff.
Hap and Leonard see a B.B. necklace around Miriam's neck and realize that B.B. was her son. They inform her of B.B.'s fate and visit B.B.'s tree "hideaway," where they find a birthday card from Sheriff Valentine as well as a photo of the sheriff touching B.B.'s shoulder.
Hap and Leonard confront Sheriff Valentine and accuse him of killing B.B., but Sheriff Valentine reveals that he was in fact B.B.'s father. When they realize that Beau killed B.B. out of jealousy, Sheriff Valentine pushes Beau into an empty swimming pool, killing him.
Want more from this season? Listen to the soundtrack from HAP AND LEONARD: MUCHO MOJO.