Hap and Leonard: Mucho Mojo Recap: Episode 5 (Pie a la Mojo)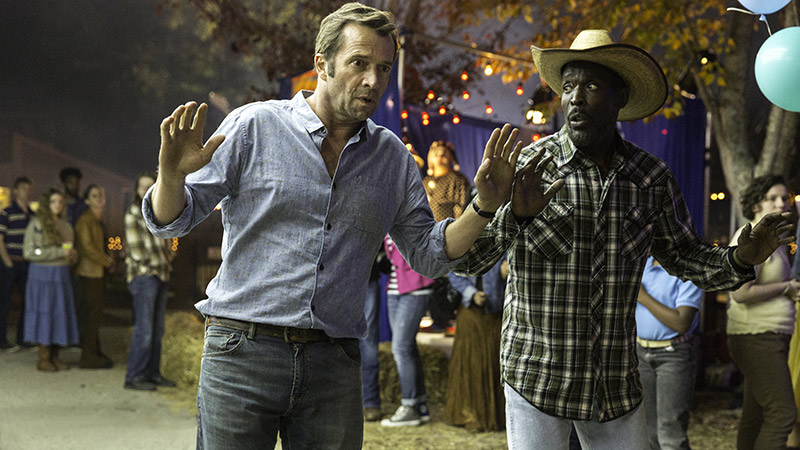 Hap and Leonard, portrayed as young kids, wander around the carnival at night, trying to solve the case. Uncle Chester's spirit urges them to find the killer.
Detectives Hanson and Blank ask Florida where Hap is. She coolly informs them that she no longer represents Hap.
From MeMaw's window, Leonard sees Officer Sneed watching his house from the street. Leonard orders Ivan to stay with MeMaw while he and Hap go to the carnival.
TJ drives past Officer Sneed with Hap and Leonard hiding in the back seat.
Hap and Leonard join a crowd of carnies while the carnival boss hands out work assignments. Hap and Leonard get assigned to cleaning duty.
Hap and Leonard study the carnies in search of potential killers. Hap gets tackled by Judy, a contortionist and an old flame. She invites them to eat lunch with her.
At the lunch tent, Hap and Leonard notice that the cook, Brick, has a 13-stripe tattoo on his arm. They surmise that the 13 stripes represent the 13 dead boys. Leonard makes eye contact with Brick.
Hap tells Judy that they're looking for a carnival employee who is hurting children. Judy offers to steal her boss's employee files.
Leonard sneaks into Brick's trailer.
In her trailer, Judy presents Hap with a box of files on every carnival employee. She tries to entice Hap into sex but he gently turns her down.
Brick finds Leonard snooping around his trailer and comes onto Leonard. Leonard keeps him at bay by asking about his tattoo. Brick explains that the stripes represent his years of sobriety and points to more stripes on his leg.
Ivan sneaks out of MeMaw's house to attend the carnival.
Florida looks for Hap at Fernie's Garage then breaks into the stock room. Hanson and Blank follow her to the garage and see her enter the stock room. Inside, Florida discovers the news clippings and photos from Hap and Leonard's investigation. Hanson and Blank follow her inside and presume from all the evidence that Hap is the killer. Hanson orders an all-points bulletin on Hap.
At the carnival, Sneed shows photos of Hap and Leonard to the carnival boss. The boss tells Sneed that Hap and Leonard are at the carnival. Meanwhile, Reverend Fitzgerald arrives at the carnival with a bus load of church kids, including Ivan.
Hanson and Blank dispatch a team of cops to find Hap at the carnival.
In Judy's trailer, Hap shows Leonard the files of nine potential suspects. Feeling overwhelmed, they decide to call the cops for help.
Hanson, Blank and Florida search for Hap at the carnival.
Leonard warns Reverend Fitzgerald that something bad is about to happen. The Reverend asks Leonard to help gather the kids and meet him by the stage.
Florida finds Hap and warns him that the police are looking for him. They hide in the Monkey Maze. Hap tells Florida that they found 13 dead boys at the old church and that he and Leonard are looking for the killer. Hap locks her in a room to prevent her from telling Hanson about their discovery.
Reverend Fitzgerald tells Leonard that Ivan is missing. Leonard runs off to find Ivan.
Hap finds Leonard and informs him that the cops are looking for him. Leonard refuses to abandon Ivan and continues his search.
Reverend Fitzgerald tells Leonard that one of the kids saw Ivan getting into a car in the parking lot. Hap predicts that the killer is taking Ivan to the crypt. Hanson and Blank corner Hap. Leonard gallops up on a horse and escapes with Hap on horseback.
Hap and Leonard arrive at the old Hope Church and find TJ standing by a car. TJ tells them Ivan is in the car and is "going to be in heaven real soon." Reverend Fitzgerald sneaks up with a gun and confesses to killing boys who he has deemed are "lost souls." Hap grabs the gun from Reverend Fitzgerald. TJ attacks Hap on the reverend's orders. Hanson, Blank, Florida and a host of cops arrive. Reverend Fitzgerald shoots himself. Blank shoots TJ dead.
Leonard rouses Ivan in the car.
Florida and Hanson watch as police uncover the bodies in the crypt. Hanson comforts Florida and leads her out of the crypt. Outside, Florida punches Hap for locking her up.
The next morning, Hanson pulls up to MeMaw's house to deliver the bad news. Leonard insists on telling her himself.
Leonard tries to console MeMaw in her dining room. She cries then quietly dies in her chair. Meanwhile, a news reporter on MeMaw's television announces that Judge Beau Otis won his reelection bid.