Hap and Leonard: Mucho Mojo Recap: Episode 1 (Mucho Mojo)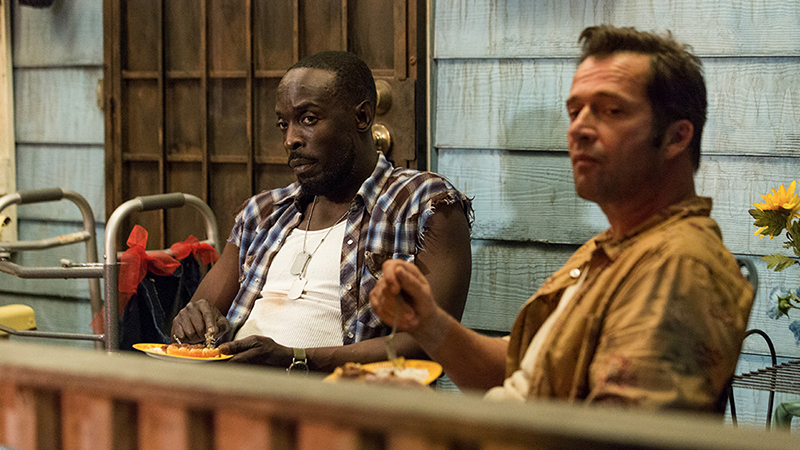 A man dumps a boy's body into a lake. One year later, a man fishes out the boy's skeleton.
Hap retrieves Trudy Fawst's ashes from a crematorium. He expresses his sadness with Fernie at work.
At Uncle Chester's house, where Leonard now lives, Leonard sees his neighbor, Melton, urinating on his rose bush. He punches Melton and urinates on him. MeMaw, the neighborhood matriarch, laughs at the scuffle from her porch.
Back inside, a floorboard buckles under Leonard's weight. Leonard peers through the hole in the floor and discovers the boy's skeleton.
Leonard calls Hap over to his house and shows him the body. They crawl under the house to investigate. Leonard picks up the boy's red sneaker and sees the letters "B.B." written in marker. Hap urges Leonard to report the dead body to police. Leonard refuses.
A boy named Ivan breaks into Hap's car and steals Trudy's ashes. Hap chases Ivan through the neighborhood. Ivan tosses the box into a passing garbage truck. Leonard chases the garbage truck down and retrieves the ashes.
Officer Sneed nabs Ivan but Hap decides to let Ivan go. Leonard reluctantly tells Sneed about the dead body.
That night, police swarm Leonard's house and remove the body. Hap and Leonard watch the police activity from MeMaw's porch across the street. Sheriff Valentine Otis arrives on the scene and speaks with Detective Charlie Blank. Detective Blank asks Hap and Leonard to come to the station.
Down the street, a man watches watches from a van then drives to a remote shack. Inside are newspaper clippings of missing kids, including that of a 12-year-old boy.
Sheriff Valentine watches as police photograph the body at the station.
Detective Marvin Hanson interrogates Leonard about Uncle Chester while Detective Blank questions Hap in a separate room. Detective Hanson tells Leonard that Chester came to the station more than once to talk about missing kids and possibly a child murder. He says Chester talked about solving the mystery with his "associate."
Hap and Leonard ask Detective Blank and Detective Hanson about the boy's shoes. The detectives tell them that police did not find shoes at the crime scene and that the body did not have any feet. Leonard's lawyer, Florida Grange, arrives. Hap is immediately interested in her.
Hap, Leonard and Florida order food at a restaurant. Florida tells Leonard that the cops will probably pin the murder on Uncle Chester and leave Leonard alone, as long as Leonard stays out of trouble.
Hap and Leonard spend the night at MeMaw's house. They meet her grandson, TJ. Leonard vows to find out if Uncle Chester is innocent.
Leonard and Hap eat breakfast with MeMaw and her other grandson, Reverend James Fitzgerald, a pastor. Leonard and Rev. Fitzgerald have a tense discussion about homosexuality in the Bible.
Leonard returns home and finds Ivan staggering down his stairs. Ivan collapses.
At the hospital, Leonard's romantic partner Raul tells Leonard that Ivan overdosed. He asks Leonard to pretend to be Ivan's uncle in order to keep Ivan out of the system until his family is located.
Detective Blank visits Hap at work and asks for a description of the boy's sneakers.
Hap stands on a bridge with Trudy's ashes. A bird attacks him, causing him to drop the box in the river below. He jumps into the river and retrieves the box, then spreads the ashes in the water.
Hap returns to his car and sees a campaign sign for Beau Otis, who is running a re-election campaign for county judge.
At home, Leonard lays Ivan in a bed and removes his shoes. He sees "Ivan" written inside the shoes in marker.
Police arrest Leonard at his house and lead him away. The same man from earlier watches from a van parked down the street.