9 Questions with Hap and Leonard: Mucho Mojo's James Purefoy (Hap Collins)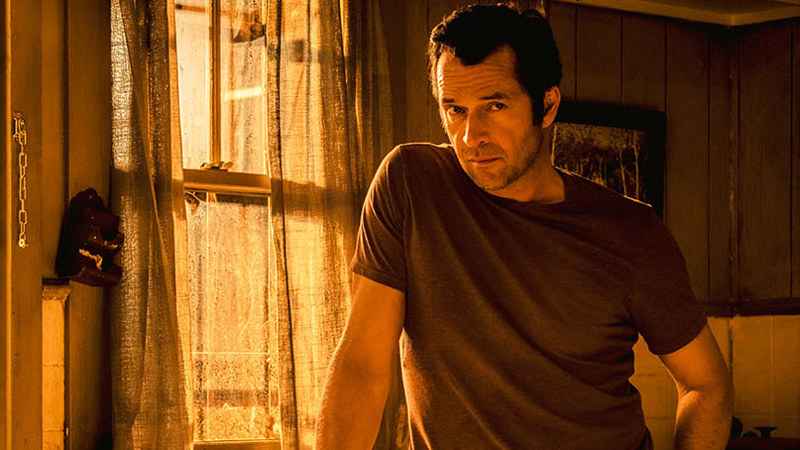 Grab some Nilla wafers because amateur crimefighters Hap (James Purefoy) and Leonard (Michael K. Williams) are back for more trouble in Hap and Leonard: Mucho Mojo. This season finds the duo in hot water after they discover the body of a young boy buried underneath Uncle Chester's house.
We spoke to James Purefoy about the duo's knack for getting into crazy situations, Hap's troubles with the ladies, and how Mucho Mojo's world of East Texas in the late '80s has suddenly become relevant.
Q: The duo is back! How was filming Hap and Leonard: Mucho Mojo different than last season?
A: It was different because we were out in the world more, whereas last season was very literally a confined season in a lot of ways — there were two episodes where I was handcuffed to Michael. So this season was fascinating for me, a middle-class man from the countryside in England, to get to look through the keyhole into the African-American community in this town in East Texas. It's very much Leonard's world that we are in this time. Although Hap is there, there are a lot of side eyes and side glances at him. He's in a world that isn't really his.
Q: Why do you think Hap and Leonard always end up in the throes of mystery and adventure?
A: I think they're very open to new ideas and they're curious. Despite the fact that they're very different in many ways, they [both] wonder about things. They see possibilities where other people might not. That might be from where they come from, and certainly from the relationship they forged because both of their fathers were killed in the same car accident.
Q: Fans say Hap and Leonard have a "bromance." What do you think Hap loves the most about Leonard? Is there anything he hates about him?
A: They're less like friends and more like brothers, in the sense that they can bicker and argue, and Michael and I can bicker and argue, but we always make up at the end of the day. They're locked together on a journey through life. They will always have each other. People might come in and out of their lives, but the one constant is each other. They're kind of like an old married couple, with no sex.
Q: They're such an unlikely duo. Does the fact that you and Michael K. Williams are friends in real life make their relationship work so well?
A: Michael and I have known each other for eight years. We did a [TV series] together in South Africa. There were some scraps and adventures that we got each other out of. We wanted to bring what we already had [to Hap and Leonard], which is a thing of "you've got my back, I've got yours. Cool, let's go."
Q: What obstacles will Hap face in Mucho Mojo?
A: Hap gets his "mojo" back in this season. He suddenly finds that he's good at being a private investigator. He realizes that the chips are down. He's lost Trudy, he doesn't have that many friends, none of his family are alive, and there's a possibility that Leonard could be doing time. He doesn't want to lose Leonard, so he has to get his shit together and be a lot more proactive this season.
Q: Hap finds a new love interest this season. He seems to fall in love a lot. Do you see Hap as a hopeless romantic?
A: Hap falls in love at the drop of a hat. Smart, strong women are his thing. With Florida [Grange], he thinks she's the best thing to come into his life since Trudy. She's smart, powerful, gorgeous. And she kicks ass. But he can't for the life of him figure out what she's doing with him.
Q: What has it been like to portray a well-established book character such as Hap Collins?
A: I wasn't aware of the books before [the show] started. When I read a bunch of them and some other Joe Lansdale work, I recognized Hap as the kind of guys I hung out with in the pub in the village where I come from. There are more similarities between Somerset in the West Country [of England] and East Texas than you could possibly ever imagine. [Both] are full of people doing low-paid jobs in a very industrial, agricultural world and trying to find ways out. Lots of get rich scams and ideas. I recognized Hap and Leonard immediately.
Q: Being an amateur vigilante involves plenty of fighting, swimming, running, etc. How do you keep up with the physical demands that Hap and Leonard's hijinks require?
A: I work out, Michael works. We had gym [equipment] on the set this season. We're on [screen] pretty much all the time, so we did a lot of working out on set. I've always tried to look after myself in that way.
Q: This season explores some topical themes for a show set in 1987. Were the parallels between Mucho Mojo and our current political climate surprising?
A: It was really interesting because when I was reading [the Mucho Mojo scripts], it just seemed like a whodunit Hap and Leonard adventure. But when we were shooting, the American election was happening. Suddenly all the themes in the scripts were spiking. We thought all of these conversations happening in 1987 — the LGBT conversations, the race conversations — were won by the liberal side of America. Suddenly you've got people coming into the White House who've got diametrically opposed views to that. Suddenly, these conversations are all up for debate again. That was an interesting thing for us, how political the show became. That wasn't the intention. What was happening on a day-to-day basis in the world around us was highlighting some things in the script that weren't just very 1987 — it was suddenly very 2017.