5 Questions With Hap and Leonard: Mucho Mojo's Brian Dennehy (Sheriff Valentine)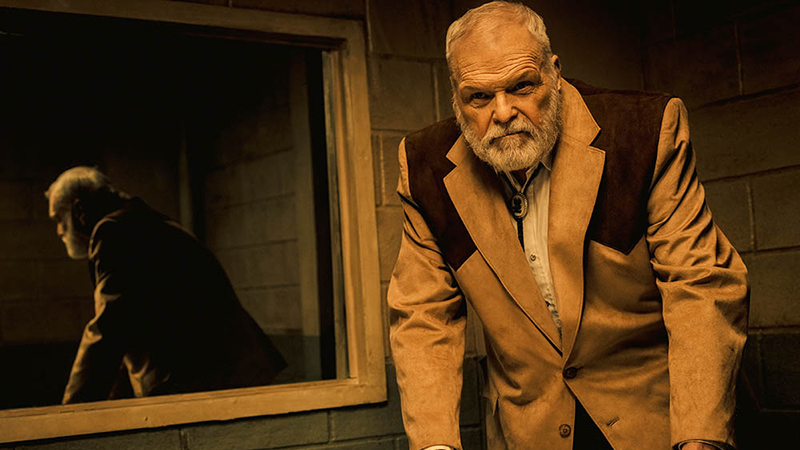 Hap (James Purefoy) and Leonard (Michael K. Williams) make some new enemies on HAP AND LEONARD: MUCHO MOJO, the most powerful of which is Sheriff Valentine. As played by the great Brian Dennehy, Valentine is an imposing presence in Hap and Leonard's world as he seeks to bring the community together while also pushing his own (potentially nefarious) agenda.
Read on for Dennehy's thoughts about joining the cast this season, how he approaches complicated characters and what he thinks about Sheriff Valentine's power over the East Texas community.
Q: What drew you to the role? Were you a fan of season one of Hap and Leonard?
A: I thought the show was interesting, because it's that rarest of things on television — it's a show about virtue. It's not very often that you see something which sets out to be about virtue, especially about young guys trying to do the right thing in a complicated and contradictory environment. Even though I play a character not particularly dripping in virtue himself, the show is definitely about people who are trying to do right by their friends and neighbors and family.
Q: How did you get into the show's Southern noir mood?
A: I've read a lot of [William] Faulkner and Southern Gothic. So I'm not unfamiliar with [the world of Mucho Mojo], although I've never actually lived in that environment. But yet, you know where it comes from and you understand it. Walker Percy and Faulker and so many other great writers have explored it over the years, as well as this show. [Hap and Leonard] are trying to fix things that normally young men would not be inclined to try to fix. It's an interesting book series and it's proved to be a fairly interesting show. Let's see where it goes.
Q: What do you think Valentine thinks of Hap and Leonard?
A: Well, at this point, he just regards them as being pains in the ass.
Q: Do you think Valentine ultimately wants to help the community?
A: I think it would make his job a hell of a lot easier if that somehow could happen. Things would get better for the community and for transgressors if the situation changed to an extent. The possibilities for improvement in everyone's lives would make his job easier and the society better off.
Q: You've played a wide variety of complex characters. How do you find the humanity in unsavory characters like Valentine?
A: Rather than being evil, [Valentine] is weak like most human beings. It's easier for him to see opposition as somebody who is being wrong, as he does with [Hap and Leonard]. And he doesn't really understand [Hap and Leonard's] opposition and contrariness. He's used to people doing what he tells them to do.