"HAP AND LEONARD" Recap: Episode 106 (Eskimos)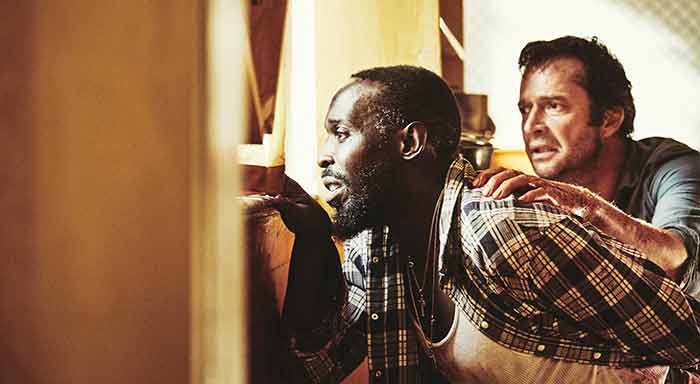 Hap (James Purefoy) looks through the wreckage of Leonard's (Michael Kenneth Williams) house and commiserates with one of Leonard's dogs, saying he misses Leonard too.
Hap threatens a canvasser off of Leonard's property when the young man tries to plant some signs for local politician Beau Otis's campaign.
Flashing back to the end of last episode, Soldier (Jimmi Simpson) taunts Hap and Leonard, still in siege inside the house. He kills some of Leonard's dogs, which briefly reduces Leonard to tears, then tests the mens' faith by theorizing that Trudy's (Christina Hendricks) probably on her way to Mexico, having betrayed Hap once again.
While Soldier distracts Hap and Leonard with a speech about Eskimos, Angel (Pollyanna McIntosh) sneaks back inside, throat bandaged, and tries to kill Hap and Leonard with an axe. Though she comes close, Leonard ultimately manages to snap her neck. As Hap and Leonard celebrates, Soldier shoots Hap in the shoulder.
Soldier enters the house, kisses Angel's dead body while drawing a second handgun. He corners Hap and Leonard in the workshop, but at the last second all hear a car speeding toward the house. Soldier turns in the vehicle's direction, firing wildly, but Trudy crashes through the wall in the van and hits Soldier, seriously injuring the criminal.
Trudy reveals that she, too, has been shot in the shoulder region. Hap levels a gun at Soldier but ultimately decides not to kill him. As Soldier mocks Hap's reticence, Trudy pulls a gun of her own and shoots Soldier dead.
Hap and Trudy help Leonard into the van and the three hit the road. On the way, Trudy tearfully confesses that she killed their pet bird, hoping to exorcise his haunting presence, but that it didn't work and that she still loves him. Looking back, Trudy finds Hap and Leonard both out cold. Shortly thereafter she slips into unconsciousness herself, from exhaustion or blood loss, and the van gently drifts off the road into the woods.
Some time after that, Hap half-awakens in a hospital bed to a vision of Trudy, looking angelic in a crown of flowers and a white dress. She kisses him and bids him goodbye before leaving the hospital with another man, also in wedding-wear, whose face is not shown.
Revisiting his childhood flashback once more, a young Hap watches a driver crash into the car his father is working on in the rainstorm and mortally injure his dad. Hap races out to see what's happened. In the backseat of the stranded motorist's car, a young Leonard looks out in horror and meets Hap's eyes.
In the present, Hap watches over Leonard as he wakes for the first time in days. Hap tells Leonard that Trudy disappeared and he didn't find the money.
FBI agents question Hap about the carnage and ask him to give them a call if he hears anything that might lead to the money. Hap plays it cool and agrees.
Back at Leonard's, Hap searches every nook and cranny. After discovering some shreds of cash in Leonard's surviving dog's droppings, Hap finds the money hidden in a bag of dog food and contemplates the FBI agent's business card.
Hap divides the cash, hiding half of it inside one of Leonard's country records (a box set) and mailing the other half to a children's charity in Trudy's name.
Hap visits Leonard again but finds his friend asleep with Raoul watching over him. Raoul tells Hap to leave Leonard alone for a while for the sake of Leonard's health. Hap agrees and asks Raoul to give Leonard the box set.
Continuing Hap's childhood flashback, police let the young driver who caused the accident off because of his powerful father's local influence. The boy's name: Beau Otis. The young Hap brings the young Leonard comic books and candy, gifted from sympathetic cops, to share.
In the present, Leonard surprises Hap by showing up at his house. Leonard thanks Hap for the "records" and Hap reveals that he's working the rose fields once again.
Leonard tells Hap his uncle has died and asks him to accompany him to the funeral. As the pair walk away from the coffin, Leonard tells Hap he's the only family he's got left.
Hap and Leonard visit Leonard's uncle's apartment and find it stuffed with the late hoarder's possessions. They decide to spend the night and go over Uncle Chester's property in the morning. The two look forward to "no more drama for a while."
As Hap and Leonard fall asleep, we sink down beneath Chester's floorboards to reveal a human skeleton sprawled on the ground in the basement.