Before "HAP AND LEONARD": Black Gay Men in Movies and TV for the Last 25 Years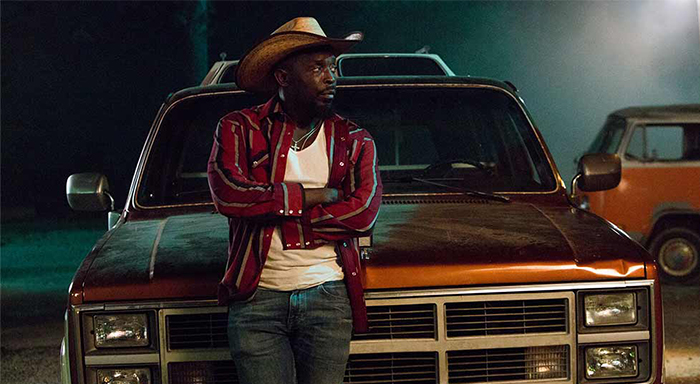 SundanceTV's HAP AND LEONARD, based on the "swamp noir" novels by Joe R. Lansdale, stars Michael Kenneth Williams as Leonard, a black gay Vietnam vet, and James Purefoy as his best friend Hap, a white conscientious objector who lures him into a get-rich-quick scheme that's anything but. While HAP AND LEONARD offers a fresh take on gay black male identity — Leonard's a fighter who doesn't take lip from anyone! — the character is only the latest positive representation of black gay men in movies and TV. Here are some of his predecessors:
1. Curtis Holt (Echo Kellum), Arrow
Mainstream TV has been doing standout work representing LGBTQ black characters on the small screen, and superhero shows are no exception. Take Curtis, a technology whiz with a husband at home and a fixation on the titular Green Arrow (Stephen Amell). This season, Curtis is slated to transform into TV's first gay black superhero, Mr. Terrific, whose superpowers include martial arts and lightning-speed learning. Nerds need representation, too!
2. Randy Rousseau (Julian Walker), Blackbird
Patrik Ian-Polk's coming-of-age tale about a black gay teenager feels, in some ways, all too familiar; as Randy's family struggles with his sexuality amid a bevy of other problems, he must learn to navigate desire, race and family in his small Mississippi town the hard way. With heartening lead performances by Mo'nique and Isaiah Washington, Blackbird illuminates the realities of being young, black and queer in contemporary America.
3. Jamal Lyon (Jussie Smollett), Empire
Jamal shatters stereotypes as the rapping-singing heir apparent to his family's musical dynasty on this hit TV drama. As a pop star on the rise, he evolves past typical "coming out" tropes into a fully actualized character attempting to balance family, work, love and identity. Smollett embodies Jamal with much-needed camp and heart.
4. Joe (Wendell Pierce), Four
This quiet meditation on intimacy and sexuality centers on a middle-class married father who cruises his suburban town for young male company just as his daughter (Aja Naomi King) seeks out her own private connection with a former high-school basketball star (E.J. Bonilla). Pierce's heartbreaking performance brings the intersection of desire, identity and loneliness into sharp relief.
5. Omar Little (Michael Kenneth Williams), The Wire
Before HAP AND LEONARD, Williams gave a star-making performance as a gay drug lord in Baltimore who juxtaposed strict moral codes, intimate tenderness and violent actions. A fan favorite, Omar offers a black gay experience that exists far outside mainstream narratives.
6. Caz (Mo Sesay), Young Soul Rebels
Caz and his straight best friend Chris (Valentine Nonyela) try to make a go of it as pirate-radio DJs in 1970s London — until Caz gets swept up by a white punk rocker (Jason Durr), causing a rift between him and Chris. With a killer soundtrack and electrifying cinematography, Isaac Julien's cult classic — with its central gay romantic lead — serves as a seminal example of black gay filmmaking.