6 Questions with "HAP AND LEONARD" Star Christina Hendricks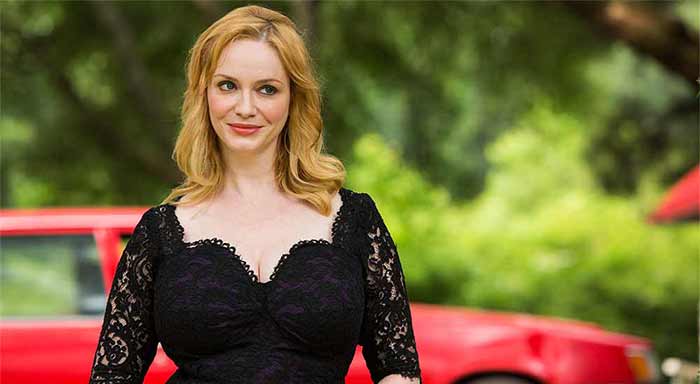 Mad Men star Christina Hendricks sounds off on she survived the rigors of shooting HAP AND LEONARD and her new character's dedication to a cause.
Q: How would Trudy describe herself?
A: Trudy would probably describe herself differently than other people would describe her. She's a truly extraordinary person. One of the things that drew me to her is that she has this objective and this idea about the person she wants to be. She wants to be a good person, and she's made some choices that she doesn't feel proud of. They're decisions that a lot of people make in their lives: divorce, not being as loyal as one could be, constantly searching for one's self. But she really beats herself up about it. Of course, she's got one or two other things about herself that are a little bit darker, but who doesn't?
Q: What does she think about the team of criminals she has joined?
A: I don't think she feels that they're a team of criminals. Paco maybe seems a little shifty. Chub is gung-ho, all ready for it. Howard is intelligent, respected, has done time for his beliefs; he is a true soldier for this movement. I think they've included Paco because they know they need him. They feel like they have to change the way they've done things. But I believe she thinks it's legit.
Q: If you were to drop someone in the world of HAP AND LEONARD, what is the essential piece of advice that you would give them in order for them to survive?
A: If someone were dropped into the world of HAP AND LEONARD, I would say, "Run, run, run – fast."
Q: Is anyone safe on the show?
A: No! No one's safe on this show. It's a caper in the best way. Capers can sometimes seem like Scooby-Doo, but this is not Scooby-Doo. This is dark and interesting and challenging. It's about friendship, relationships, camaraderie, loyalty and how those things break down.
Q: How far will Trudy go to accomplish her goals?
A: When I envision Trudy, I envision this person who came from an upper-middle-class background and probably had a lot of things handed to her, who has this sense of guilt for being part of this society at a time when people were starting to speak out and try to make changes. She wanted to be a part of that movement, but she was also sort of a princess at home. She was daddy's little girl, maybe a cheerleader, and she's fought her whole life to prove that she was more. But she's never proven it. So she tries to do so through men. She gets a guy who's got a cause and attaches herself to that. I think when our story begins, she has made a decision that it's all or nothing. She either has to take a real step or go home. She is devoting her life to this because she is so disappointed in herself.
Q: What are three words that you would use to describe the series?
A: Exciting. Violent. Humorous.