Before "HAP AND LEONARD": Top 5 Christina Hendricks TV Shows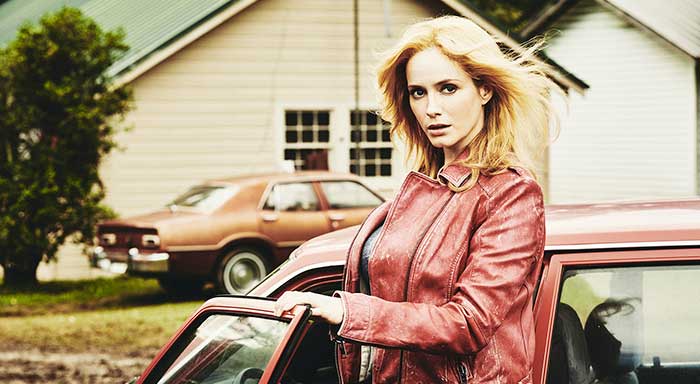 Christina Hendricks made her small screen debut in MTV's Undressed before going on to play the iconic Joan Holloway Harris on Mad Men. As she returns to TV in SundanceTV's HAP AND LEONARD (premiering Wed., Mar. 2), let's look back at five of her most noteworthy series to date.
1. Another Period
Who knew Hendricks could hold her own in a comedy spoofing reality shows? Yet that she does. Here, she plays Celine, a manipulative servant in a French maid outfit, no less. Hendricks couldn't be less like Joan than this role which she referred to herself as "incredibly devious and awful."
2. Beggars and Choosers
Hendricks stars as Kelly Kramer on this Emmy-nominated comedy which goes behind-the-scenes of a TV network where its desperate staff will do anything to raise ratings. And yes, there is a steamy scene involving Hendricks' character atop a table. Just saying.
3. Life
On this crime drama, Hendricks plays Olivia, the soon-to-be mother-in-law of ex-con Detective Charlie Crews (Damian Lewis). Soon enough though, she's ditching her fiancé (Charlie's father) for Charlie's former prison pal Ted (Adam Arkin). This one's scandalous and romantic!
4. Mad Men
For seven seasons, we had the pleasure of watching Hendricks' Joan ascend from the office manager at Sterling Cooper to a savvy partner at SCDP then the founder of her own production company. She was the working mother who not only demanded respect but got it.
5. Undressed
Before Degrassi: The Next Generation, there was MTV's Undressed which focused on young adults in relationships. Hendricks' character is a love-struck college student in LA who falls for a rapper. In grungy clothing and a short hairdo, she was primed for a Mad Men makeover.
HAP AND LEONARD premieres Wed, Mar. 2 at 10/9C on SundanceTV.