Before "HAP AND LEONARD": Top 5 Michael Kenneth Williams Movies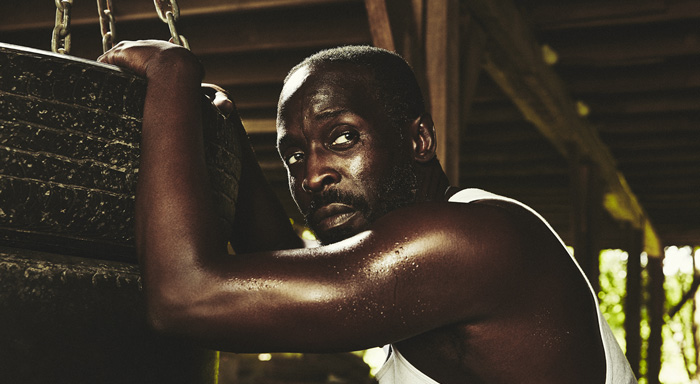 You might expect an actor with an intimidating presence and a deep scar criss-crossing his face to get typecast now and again, but Michael Kenneth Williams' raw talent has made him impossible to pin down. Before you see him portray gay Vietnam veteran Leonard Pine on HAP AND LEONARD, here's a rundown of his best big-screen work. (And yes, we loved him in The Wire.)
1. 12 Years a Slave
Steve McQueen's excruciating historical drama won an armful of Oscars and set a new standard for unflinching realism. Williams' character, Robert, is a minor one, but his big scene is hard to forget. After Solomon Northrup (Chiwetel Ejiofor) is captured and locked in the hold of a slave ship, he tries to stop a white sailor from raping a fellow captive. The slaver casually murders Robert, teaching Solomon the potential consequences of resistance in no uncertain terms.
2. Brooklyn's Finest
Antoine Fuqua's crime drama is pulpy and predictable, but an undeniably good time. Playing a vengeful, violent drug kingpin named Red, Williams is as charismatic as ever. You've never, ever seen anyone look so menacing in a bucket hat.
3. Inherent Vice
Paul Thomas Anderson directed this adaptation of Thomas Pynchon's novel, a shaggy-dog detective story set amidst the haze of 1970s L.A. Williams' character, recently paroled Black Guerrilla Family gangster Tariq Khalil, sends stoner P.I. Doc Sportello (Joaquin Phoenix) on the hunt for for a missing Aryan Brotherhood associate who owes him money—and down a winding path to the movie's heart.
4. The Gambler
In this remake of the 1974 drama starring James Caan, Williams plays the heavy yet again. This time, he's loan shark Neville Baraka, who preys on the weaknesses of gambling addicts like professor Jim Bennett (Mark Wahlberg). Williams has compared Neville and Jim's dynamic to a game of chess, with two highly skilled opponents always trying to guess the other's next move.
5. The Road
Another adaptation from one of the country's greatest living authors, this post-apocalyptic drama is faithful to the Cormac McCarthy novella on which it's based, presenting a pitch-dark world that requires its heroes to exhibit unfailing ruthlessness in order to survive. Williams' nameless character embodies that ethos, robbing Viggo Mortensen and Kodi Smit-McPhee's father-son pair before they ultimately catch him and strip him of all his possessions. Still, Williams makes the thief immensely sympathetic in his desperation.