6 Questions with Joe Lansdale, Author of the "HAP AND LEONARD" Novels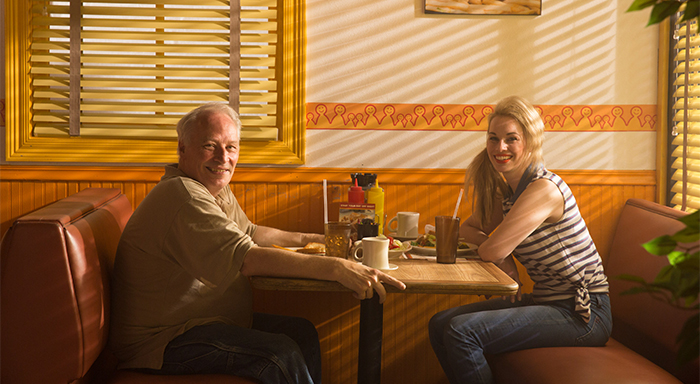 Caption: Joe Lansdale with daughter Kasey Lansdale
HAP AND LEONARD author Joe Lansdale sounds off on the latest novel in the series, the relationship between Hap and Leonard and what to expect when adventuring with this pair of trouble magnets.
Q: How many Hap and Leonard books have you written?
A: There are nine Hap and Leonard books. The ninth one is coming out in 2016, and I'm currently working on a tenth. Season One of HAP AND LEONARD is based on the first novel featuring the characters, Savage Season.
Q: What is the season about?
A: The season introduces us to the friendship of Hap and Leonard and to the fact that they seem to be trouble magnets. They think they're going to make some easy money, but it's never easy – especially for Hap. He leads Leonard into things that maybe Leonard wouldn't do otherwise.
Q: How are they so different, yet such good friends?
A: They share a certain sense of honor at their core and a sense of stability with each other. They are family. They created their own family, so that is their big strength. Everything else radiates from that. You have one that was a war resister and one that went to fight in Vietnam, but I think the fact that they both felt that they were doing an honorable thing ties them together.
Q: Do you think the series stays true to the novel?
A: As much as it can. There are always differences in adaptations. I was talking to the script writer, Nick Damici, and we decided that it was probably 85-90% true to the novel. I am very happy with it.
Q: If you were to drop someone in the world of HAP AND LEONARD, what is the essential piece of advice that you would give them in order for them to survive?
A: I would bring a raincoat because it seems to rain a lot. There are a lot of storms, not only climate-wise but also in a personal inner turmoil sense. However, it's also a fun ride.
Q: Is HAP AND LEONARD a dark comedy?
A: Yes. It's a dark comedy, but it's also kind of Gothic and kind of noir, all those things. That's why I don't like labels, because I try not to think that I'm working in a particular genre. I just write the book I want to write, tell the story I want to tell.