6 Questions with "Green Porno: Live on Stage" Consultant Muriel Mayette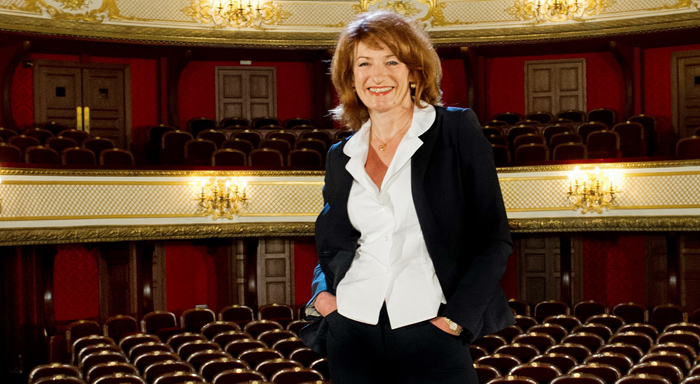 Photo Credit: Cosimo Mirco Magliocca
Isabella Rossellini tapped famed theater director Muriel Mayette to help translate her wild web series into a one-woman show for Green Porno: Live on Stage. Mayette gives us the scoop on guiding the production, falling in love with Isabella and rising through the ranks of France's most prestigious theater company.
Q: You're credited with providing artistic guidance on Green Porno:Live on Stage. How involved were you with bringing the production to life?
A: Isabella had a very specific idea for the production. My work was simply to understand her and follow her vision. To collaborate on such a ripped and intimate project is always the trickiest. I can, in a way, say, "I watched her working."
Q: What are the challenges of dramatizing a web series about animal mating habits?
A: The only challenges are the challenges of an actress, alone onstage and carrying the rhythm of the show. The substance was there, but she had to play it live in several languages. It's a matter of training and mastering the stage as a tool.
Q: You've directed a number of plays. Was there one that held a particular significance to you?
A: Each play is a journey and I cannot compare them. This time, Isabella dominates. Our meeting was powerful. I fell in love with this woman, this artist. I mostly supported her project while trying not to disrupt nor add anything to it. It was sort of like giving birth to an amazing baby! It is also a one-person show, which is no doubt the most difficult for an actress, therefore it must be handled with care.
Q: How does your collaboration with Isabella compare to the other artists you worked with in the past?
A: Isabella did not have much experience with theater stage production. She is mostly an artist who specializes in visual images. I had to help her translate her ideas and her project into this medium. I revealed to her all the possibilities she had at her disposal.
Q: You joined the Comédie-Française when you were in your 20s. Has the theater always been your passion?
A: I've been performing since I was 14 years old. It's a true passion I did not choose, but that chose me! I was 18-years-old for my first mise-en-scène and I never stopped working. I love this profession like crazy. It's the most beautiful job in the world. It gives you everything but at the same time, it also takes everything from you.
Q: You were appointed the first female administrateur général of Comédie-Française in the company's 300 year history. What does it take to break through barriers like that?
A: I'm proud to be the first woman to lead this theater. For me it's quite natural—I immediately accepted this opportunity when it was offered to me eight years ago. The Comédie-Français is a prestigious troupe and I honed my skills there. Today our venues are packed and our ensemble is recognized and respected all over the world. I possess an unconditional love for the actors! Today Isabella is among my stars!
Click here to read an interview with Mayette's Green Porno: Live on Stage collaborator Isabella Rossellini.
Click here to read an interview with Green Porno: Live on Stage writer Jean-Claude Carrière.
Click here to find out if Green Porno: Live on Stage is coming to a theater near you.