Isabella Rossellini Brings "GREEN PORNO" to the Stage This Summer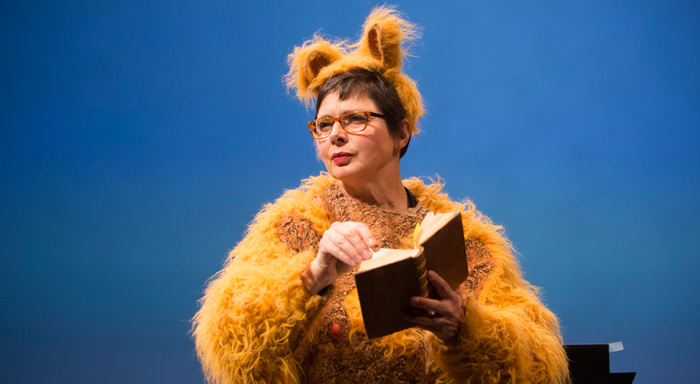 This summer, Isabella Rossellini is bringing her award-winning web series to life as a one-woman stage production with Green Porno: Live on Stage. The performance marries together snippets of video footage from the titular web series, an all-new script by legendary French screenwriter Jean-Claude Carrière (The Discreet Charm of the Bourgeoisie), and segments from SEDUCE ME and MAMMAS.
The show explores the bizarre and intriguing mating habits of the snail, worm, fly, shrimp, spider, praying-mantis, anchovy and bi-phallic snake. Rossellini explains, "Since my work has been first as a fashion model, then as an actress, this interest of mine remained not known to the public. But when my career evolved further to include writing and directing films, biology became my main source of inspiration."
Praising the work of her collaborator, Rossellini went on, "The great Jean-Claude Carrière, who is writing the theatrical comical version about my interest in nature, said about the wonderment of nature, 'How can we ever be bored? Indeed, biology is the greatest show on Earth.'"
Here's where you can catch the tour:
Jun 6-8 in Toronto (CA)
Jun 17 in Hambourg (DE)
Jun 19-21 in Amsterdam (NL)
Jun 24-26 in Athènes (GR)
Oct 3-4 in Chicago (US)
Performances for 2015 are yet to be announced. Can't make it to a show? Watch GREEN PORNO, SEDUCE ME and MAMMAS online now.