Gomorrah Season 2 Recap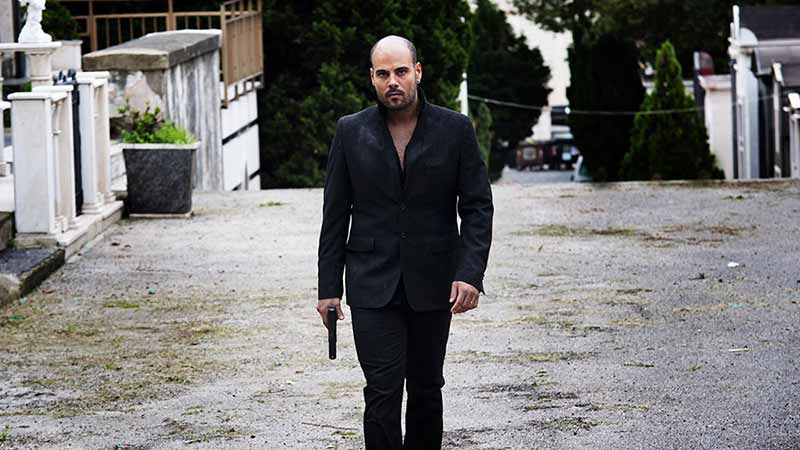 Genny survives Ciro's attack and, a year later, becomes one of the top cocaine dealers in Honduras. Pietro flees to Germany.
Ciro and Conte flip Pietro's associates and offer each person an autonomous dealing spot with drugs supplied by Conte. Ciro and Rosario rob a bank to come up with the money for a spot in the new Alliance.
Debora fears retaliation from the Savastano clan and begs Ciro to send her and Maria Rita, their daughter, to a safe location. When Ciro refuses, Debora goes to the police but changes her mind at the last minute. One of Ciro's men sees her outside the station and reports her to Ciro. Ciro chokes her to death.
Genny returns to Italy and becomes business partners with one of his top customers, Giuseppe Avitabile. He dates Avitabile's daughter, Azzurra, and takes up residence in Rome.
Genny helps Pietro sell diamonds to Mico Scarfioti in exchange for guns. They go on the run after thugs gun down Mico's crew. Pietro collapses. Genny nurses him back to health only for Pietro to leave him and strike out on his own.
Scianel proposes that Alliance members all buy drugs together at the same bulk price rather than let Conte profit both from bulk pricing and resales. Conte strikes down the suggestion. Ciro privately urges the Alliance to cooperate with Conte until the right moment arrives.
Conte attends his birthday party with Renata, who acts as his girlfriend in public to hide his relationship with Nina, her transsexual sister. Nina surprises Conte with a birthday serenade. Conte stabs Mulatto in the hand for mocking Nina's transsexuality. Mulatto later apologizes to Conte but Conte gives his dealing spot to Prince as punishment. Ciro recruits Prince and Mulatto and together they kill Conte.
Malamore hires his niece, Patrizia, to act as Pietro's messenger while he hides in a Naples tenement apartment. Using intel from Patrizia, Malamore sends masked men to steal Scianel's money in a gambling den. Scianel tracks down one of the thieves, Angelo, and starts to kill him, but Ciro allows him to live after he confesses that Pietro was behind the robbery.
Ciro guesses that Pietro is trying to create mayhem within the Alliance. He approaches Genny, instead of Pietro, to broker a peace deal. Incensed by the turn of events, Pietro has Patrizia deliver a gun to Genny with orders to kill Ciro. On the eve of their meeting, Genny breaks into Ciro's hotel room and holds him at gunpoint but ultimately decides to spare Ciro's life. Ciro offers to leave Pietro's gang alone on two conditions: the Alliance will buy Genny's drugs and Pietro's gang must never leave Savastano territory. Genny agrees. Meanwhile, Genny and Prince agree to quietly go into business together.
Azzurra becomes pregnant.
Pietro confronts Genny about letting Ciro live but Genny maintains that the future lies in building a relationship with Rome. He asks Pietro to trust him for once.
Trak and Bomber rob a bank that lies outside the Savastano territory. Malamore beats up Trak and Bomber and orders them to respect the new boundaries. Ciro convinces the alley boys to defect to the Alliance, predicting that the betrayal will trigger in-fighting that ultimately benefits the Alliance.
Trak and his alley boys storm Malamore's building complex and lay claim to Malamore's dealing spot. Malamore retaliates by ambushing Trak during a cocaine delivery. Trak escapes and shoots one of Malamore's men.
Genny, Malamore and Angelo meet with Carmine, Trak and Bomber to try and broker a peace. Trak unexpectedly shoots Malamore and declares that anyone with Savastano is against him.
Genny estimates that Prince can cut six kilos out of one kilo of his cocaine and offers to charge Prince twenty percent less than the Alliance. Meanwhile, Rosario complains about Prince to Ciro and shares his suspicion that Prince isn't reporting his earnings honestly. Ciro defends Prince for increasing their total profit.
Two men shoot up the nail salon of Azmera, Prince's girlfriend. Prince suspects Rosario of orchestrating the shooting and decides to leave the Alliance after he learns that Rosario has been badmouthing him. The Alliance sends a gang to beat up Rosario. Rosario apologizes to Prince.
Pietro and Malamore kill Prince. Ciro cautions the Alliance against blaming Rosario for Prince's death until he investigates further. Rosario is gunned down by two men while in hiding. The Alliance learns from Angelo, who witnessed Prince's murder, that Pietro was responsible for Rosario and Prince's deaths.
Ciro decides to give Prince's old dealing spot to Scianel's son, Lelluccio, upon his release from prison. The alley kids complain about their small take.
Scianel learns that her daughter-in-law, Marinella, is having an affair with her driver, Mario. She has Mario shot in the crotch and informs Lelluccio about the affair after he's released from prison. Lelluccio chokes Marinella at his homecoming party then storms outside. The alley boys kidnap him but are stopped by police at a checkpoint before they can kill him. Scianel and her goons kidnap Trak and drown him.
Lelluccio calls Marinella and threatens to kill her. Using a phone number supplied by Patrizia, Marinella alerts Bomber that Lelluccio is coming to her apartment. He dispatches a crew of alley kids to kill Lelluccio. When they kill the wrong man, Marinella runs to the police and rats out Scianel.
Scianel joins Pietro's side.
Ciro learns that Patrizia is Pietro's messenger by tracing phone cards and phones. Patrizia spots Ciro's men on her tail as she drives to a meeting between Genny and Pietro. She alerts Genny that she's being followed and asks him to warn Pietro. Ciro captures Patrizia and threatens to kill her brother if she doesn't give up Pietro's location. By the time his men reach Pietro's hideout, Pietro has already fled.
Malamore offers to give Scianel and her spot to the alley boys if they tell him where Ciro has taken Patrizia. Malamore rescues Patrizia and brings her to Pietro's home, where he is now headquartered. Meanwhile, Carmine and Bomber storm Scianel's hideout. Scianel escapes but is later arrested at a checkpoint.
Genny confronts Pietro about killing Prince despite knowing he and Genny were allies. Pietro dismisses Genny's complaint and declares that Secondigliano belongs to him.
Gypsy decides to rejoin the Savastanos after Mulatto gets gunned down by his own men. Pietro agrees to take Gypsy back if he brings him Ciro. Gypsy tries to lure Ciro to a meeting but Ciro senses a trap and stays away. Pietro kills Gypsy.
Pietro invites Patrizia to live with him. He kisses her.
Alfredo, one of Avitabile's men, kidnaps a city councilman to threaten him but accidentally kills the councilman when he tries to run.
Genny and Azzurra get married and sneak off for a private dinner during their wedding reception. Cops arrest Alfredo for the councilman's death and then arrest Avitabile at the reception after Alfredo implicates Avitabile. Genny admits to Azzurra that he ratted out Avitabile because he was being treated like a minority partner in their empire. Azzurra stands by his side.
Business flourishes for Pietro. He has Lelluccio killed and also has Malamore kill Maria Rita. Ciro finally admits defeat.
Pietro proposes to Patrizia then calls Genny and asks to discuss an important matter at Imma's tomb. Genny finds Ciro, gives him his gun and tells him where to find Pietro. Ciro goes to Imma's tomb and shoots Pietro dead.
Azzurra gives birth to a baby boy. Genny names him Pietro.
Watch the entire season on sundance.tv.