Gomorrah Recap: Episode 212 (The End of the Day)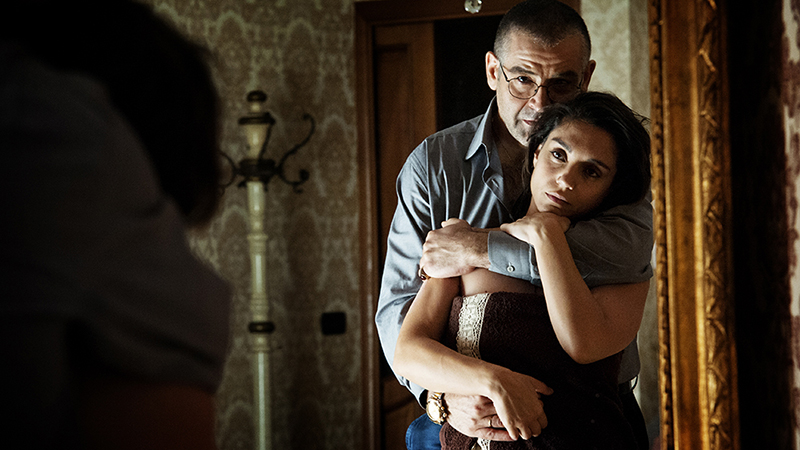 Savastano's men gun down Lelluccio at his hideout.
Pitbull informs Ciro that Lelluccio is dead. Ciro tells Pitbull to pay good money to anyone willing to join their side.
Genny visits Avitabile in prison. Avitabile charges Genny with tracking down the person who ratted him out to police.
Police bust up one of Pietro's drug operations. Malamore informs Pietro that their earnings are taking a hit due to the increased police presence. Pietro devises a new system.
Ciro sends Maria Rita to school in a heavily guarded convoy.
Azzurra accuses Genny of ratting out her father. Genny admits he betrayed Avitabile because he was being treated like a minority partner in their empire.
Malamore implements Pietro's new system and business begins to flourish. However, Malamore informs Pietro that Ciro is building an army. Pietro decides Ciro must be eliminated immediately.
Azzurra agrees to stand by Genny's side but insists he never forget that she is betraying her own blood.
Ciro accompanies Maria Rita to her motorcade. Malamore and his men attack the motorcade en route to her school and Malamore shoots Maria Rita.
Genny visits Pietro in Naples and demands payment for his dope. Pietro declares that Genny will give him the dope for free. Genny refuses to play by Pietro's rules and leaves.
Ciro stares at Maria Rita's grave and cries. Defeated, he instructs his men to divide up his money and run.
Patrizia browses Pietro's family photo album and counsels Pietro to let go of his control over Genny. She also declares that she cannot replace Imma.
Pietro calls Genny and asks to discuss an important matter in person. He tells Genny to meet him at Imma's tomb.
Pietro proposes to Patrizia.
Genny tracks down Ciro, whose spirit has been broken. He gives Ciro his gun and tells him there is one thing left to do.
At home, Azzurra finds blood on her pants.
Malamore drives Pietro to the cemetery. Pietro goes to Imma's tomb and asks Imma to forgive him for marrying another woman. When he turns around, he finds Ciro standing before him with a gun.
At a hospital in Rome, Genny stands by Azzurra's side as she goes into labor.
Ciro shoots Pietro in the head and walks away. Malamore finds Pietro dead.
Azzurra gives birth to a baby boy. Genny cradles him and calls him Pietro.
Watch the entire season on sundance.tv.