Notes From Gomorrah Director Stefano Sollima on Season 2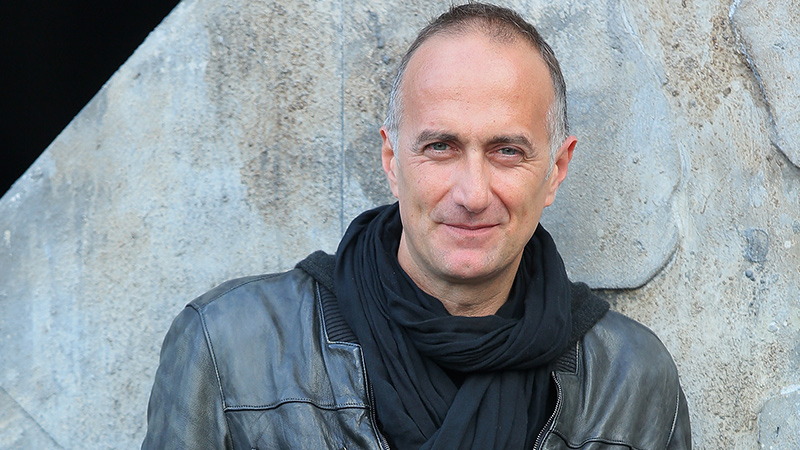 SundanceTV's mob epic — currently in its second season — is being lauded as a "brooding, propulsive, totally addictive" show by The New York Times and "the best thing about the mob since The Sopranos" by Mel Magazine. Below, director Stefano Sollima reflects on his returning approach to Season 2, what it took to raise the bar for the new episodes, and the importance of remaining truthful to the gritty reality of organized crime in Italy. Gomorrah airs Wednesdays at 10/9c.
On creating a uniquely Italian drama…
When we set out to do Gomorrah, the common ambition shared by the four directors and all those who have believed in the series and worked on it, was to create a product that could compete with any new international series in content and production value, while maintaining a look and feel that was uniquely Italian. Today, two years after airing the first season of the series, I feel confident in saying that we have been able to do just that.
On depicting organized crime with an extreme level of truthfulness…
Ultimately, we expanded the fictional universe of Gomorrah itself, effectively giving the audience a sense of how current criminal systems branch out and expand globally while maintaining firm roots in a well-defined and recognizable territory. The compass that guided us while making this second season is much the same, on all levels. The point of view of the criminals remains, yet we still avoid any kind of smugness. Of course evil exists, and of course there's the fascination it inevitably elicits, but there's no empathy with those who embody it. This choice, we believe, has helped us achieve an extreme level of truthfulness in characterization. Despite the fact that Gomorrah might be worlds away from the viewer, its realistic and rough language invites immediate critical engagement with reality as depicted. It invites us to ask questions about causes and possible solutions, to understand the reasons and to see this portion of reality for what it is: an anomaly. Such are, in fact, all territories, neighborhoods, housing blocks controlled or at least infested by organized crime. Then again, there's another anomaly: that Campania, Naples, Scampia are mainly composed of good people who suffer from "the System" because, as in other parts of our country, they are on their own, without a cultural alternative to the daily routine of violence that becomes their only chance of survival.
On developing the approach for Season 2…
It's obvious that, in approaching the second season, I felt a different challenge on so many levels. First and foremost, dealing with the high expectations raised by the first season. A situation in which, personally, I had already found myself in with the second season of Romanzo Criminale. Allowing for all the hard work and commitment that such series invariably require, it helped on that occasion that the story arc pointed to a natural transition from the first to the second exhausting season: from the start, they had been conceived as two chapters of a self-contained epic fresco, one being a natural completion of the other. However, the first season of Gomorrah had something inherently different about it, a series of complex and inextricable elements – human, narrative, environmental, anthropological, cultural – which I, and indeed all of us directors (Francesca Comencini and Claudio Cupellini, who shared with me the experience of the first season, and Claudio Giovannesi, who just joined the team) were having to measure up against.
We realized that, in order to face a second season in which the bar was naturally raised even higher, we would need all the fresh ingredients we had used in the first, plus some degree of higher awareness of the fact that our choices, our approach had proved to be the right ones for the world we had chosen to depict. Straight to the heart of the matter: an absolute commitment to lending truth and psychological depth to the characters; a meticulous study of the environment they inhabit; development of an immersive imagery to allow us to capture the characters as they live and breathe and have them take us along for the ride; the choice of an insider's point of view and, at the same time, an effort to always remain nonjudgmental while maintaining a strictly ethical approach. And finally, in the second season we expanded the range of location, both international (we shot in Germany and Costa Rica) and Italian (Rome, Trieste).
On returning to Scampia and Secondigliano for Season 2…
To go back to Scampia and Secondigliano a year later after shooting Season 1 was a thrilling experience – in part, because we soon realized that the understandable distrust we were met with the previous year on set was actually giving way to a heartfelt and generous, if sometimes critical, participation. And, also, because we had the distinct sensation of finding those difficult areas less marginalized, and somewhat more conscious of their hope for redemption and growth. But, above all, we were able to measure the honesty of our approach and discover that, thanks to our work, we have gained some real "truth license," something we have achieved without embellishing reality or adopting a moralizing or ideological tone; something we have achieved by taking an unsparing approach. Which is exactly what we set out to do.