Gomorrah Recap: Episode 209 (Seven Years)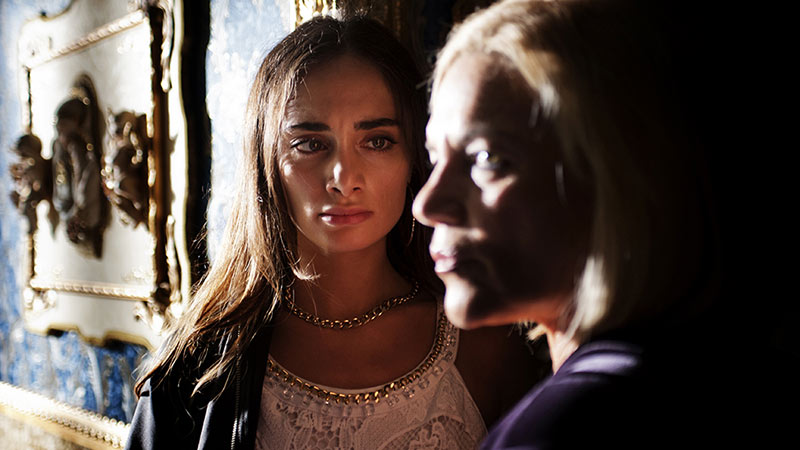 Scianel overhears Marinella talking to someone on her phone. Marinella insists she was just watching TV.
Scianel buys Marinella a dress to wear to Lelluccio's homecoming party. Scianel sees Marinella making eye contact with her driver, Mario.
Mario drives Scianel and Marinella to a meeting spot with Scianel's bodyguard, Domenico. Scianel meets Domenico in his car for a private discussion. He tells Scianel that Malamore wants to speak with her, but Scianel opts to wait for Ciro's next move.
Marinella and Mario secretly hold hands in Scianel's car and discuss when they can see each other again. Scianel sees them talking and asks Domenico for a favor. She returns to her car and tells Mario to take Marinella home.
Marinella and Mario make love in Scianel's car. Marinella tells him they can no longer meet, given Lelluccio's imminent release from prison. Domenico secretly watches them from his car.
Scianel meets with Ciro and proposes Lelluccio take over Prince's old dealing spot. Ciro agrees.
Scianel has her associate shoot Mario in the crotch. They leave him bleeding.
The Alliance agrees they must find out who Pietro's messenger is. Ciro announces that Mulatto and Gypsy will split Rosario's dealing spot and that Prince's spot will go to Lelluccio. The alley kids complain about their small take.
Marinella looks outside her window and frowns when she sees a new driver step out of Scianel's car. A mob of women attack her in the stairwell, calling her a slut and a whore. Scianel marches Marinella back to her apartment and confronts her about Mario.
Scianel greets Lelluccio outside the prison. He demands to know where Marinella is.
Lelluccio chokes Marinella at his homecoming party and informs her that he had Mario killed. Marinella lashes out at him and dares him to kill her. Lelluccio storms outside and goes for a ride on his motorcycle. Trak and Riccardo cut him off and declare they are taking Prince's spot. They beat him up and throw him in a car.
Police stop Trak and Riccardo at a checkpoint and notice a bloody Lelluccio inside. They order everyone to get out.
Scianel picks up Lelluccio at the police station the next day. He says the alley kids would have killed him if the cops hadn't kept him overnight.
Scianel consults Ciro about the alley kids but he refuses to get involved. Scianel and her goons kidnap Trak and drown him. The alley kids mourn Trak's death.
Scianel accompanies Lelluccio to a safe house and offers to deal with Marinella. He screams at her to mind her own business and insists he will deal with his own wife.
Over dinner, Scianel advises Marinella that the only way to be a free woman is to not have a husband.
Lelluccio calls Marinella to inform her that he slept with another woman for revenge. He threatens to kill her.
Pietro tells Patrizia that the Alliance is on the verge of imploding, just as he planned. Patrizia asks his permission to hatch a new plan.
At the shop, Patrizia offers to help Marinella out of her predicament. She secretly stops by Marinella's apartment and gives Marinella a phone number.
Lelluccio calls Scianel to announce that he's coming for Marinella. Marinella calls the phone number that Patrizia gave her: It's Bomber. She tells him that Lelluccio is coming home.
Carmine and Bomber dispatch a crew of alley kids to kill Lelluccio. The alley kids wait for Lelluccio outside Scianel's building and text Marinella, asking her to get Lelluccio outside. Marinella seduces Lelluccio and suggests they take a walk. As they walk downstairs, they hear gunshots. Marinella flees once she realizes the alley kids shot the wrong man.
The alley kids celebrate Lelluccio's death until Bomber learns that they killed the wrong man.
Scianel tells Domenico that she wants to meet with Pietro. She assures Lelluccio she will take care of everything.
Marinella goes to the police.
Ciro approaches Genny in Rome and reveals that he knows about his side deal with Prince. He informs Genny that Pietro killed Prince and Rosario, despite knowing about Genny's alliance with Prince. He proposes they unite against Pietro. Genny sees Giuseppe Avitable and Azzurra waiting for him.
Watch full episodes on sundance.tv.