Gomorrah Recap: Episode 205/206 (Eye to Eye/Somebody Else's Kids)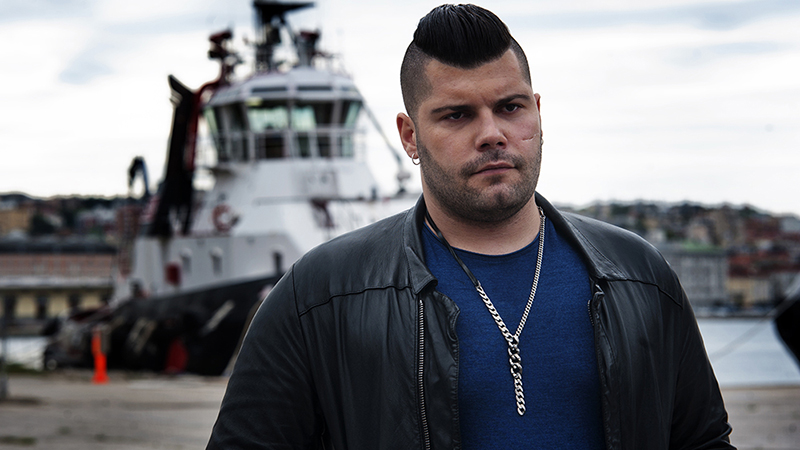 A plastic gun is fabricated on a 3-D printer.
Ciro asks Don Aniello to act as guarantor for his upcoming meeting with Genny. Rosario urges Ciro to kill Pietro and Genny but Ciro maintains that it's better to control the Savastanos rather than kill them.
Aniello guarantees Genny's safety to Giuseppe Avitabile but asks for Avitabile's word that Genny will not kill Ciro.
Genny promises Avitabile that he will not kill Ciro and assures Avitabile that he plans to stay in Rome.
Ciro assuages the Alliance's concerns over his meeting with Genny, saying Genny would not have taken the meeting if the Savastanos weren't in trouble.
Patrizia brings Pietro the plastic gun and awaits his instructions.
Azzurra throws Genny a lavish birthday party. Genny introduces Azzurra to his friends from home, Trak, Bomber and Carmine. Patrizia summons Genny outside and gives him the plastic gun, along with Pietro's orders to kill Ciro. Meanwhile, Trak robs a party guest inside.
Genny leaves the party to hang out with Trak, Bomber and Carmine. They complain to Genny about how much the Alliance is hurting business and urge him to kill Ciro. Azzurra calls Genny to inform him that one of his friends robbed a party guest. When Trak admits it was he who stole the watch, Genny punches Trak and ditches his friends.
Genny meets with Prince and suggests they quietly go into business together. Prince agrees.
Ciro packs for his trip to Trieste, where he will meet Genny. He assures Maria he will return the next day.
Azzurra packs the plastic gun in Genny's suitcase and urges him to do what he must. Genny kisses her.
Ciro arrives at his hotel in Trieste. Rafaello, a hotel worker, takes him to his room. Rafaello calls Genny and gives him Ciro's hotel and room number.
Ciro goes for a nighttime stroll while flanked by bodyguards.
Genny finds a bullet in his toiletry bag and places it in the gun. He finds the key to Ciro's room in an envelope.
Ciro returns to his hotel room and finds Genny waiting with the gun. Ciro confesses that he killed Debora and urges Genny to shoot him. Instead, Genny tells Ciro to remember the day he could have killed him but didn't.
Ciro and Genny meet the next day in the presence of Aniello. Ciro offers to leave Pietro's gang alone on two conditions: the Alliance will buy Genny's drugs and Pietro's gang must never leave their territory. Genny agrees.
Alliance soldiers surround Malamore as he tries to leave his building complex. They inform him that under Genny and Ciro's new agreement, his men must not leave the complex.
Pietro seethes in his hideout and tells Patrizia he must see Genny.
Genny returns home to Azzurra and learns that she is pregnant.
Ciro returns home and hugs Maria.
Genny and Pietro meet in secret. Pietro confronts Genny about letting Ciro live, but Genny maintains that the future lies in building a relationship with Rome. He asks Pietro to trust him for once.
Rosario instructs his soldiers to stop any Savastano men who try to leave the Berlingieri territory.
Malamore admonishes Carmine for leaving their territory and flouting the agreement with Ciro. He also orders Carmine to buy his drugs from the Savastanos, despite Carmine's complaints that it's too expensive.
Trak and Bomber rob a bank that lies outside the Savastano territory. Rosario reports the robbery to Ciro and suggests they kill them. Ciro insists they let the Savastanos deal with it.
Patrizia informs Pietro of the robbery. Pietro decides to honor Genny's agreement with Ciro and asks that Malamore deal with the alley boys. Malamore beats up Trak and Bomber and orders them to respect the new boundaries.
Ciro visits Carmine and suggests he and the alley boys defect to the Alliance. Carmine refuses to betray the Savastano clan.
Trak and Bomber tell Carmine that they plan to take Ciro up on his offer. Carmine refuses to join them. Rosario tells Ciro that they're "letting in rats," but Ciro predicts the betrayal will trigger in-fighting that ultimately benefits the Alliance.
Trak and his alley boys hatch a plan to take over Malamore's spot. That night, they storm Malamore's building complex and force out all of Malamore's friends and family. Trak declares that the building will be his dealing spot from now on.
Ciro addresses the rebellion with a concerned Alliance and reminds them that they are benefiting from Genny's top-grade cocaine.
Pietro orders Malamore to punish the defectors. Malamore ambushes Trak during a cocaine delivery. Trak escapes and retaliates by shooting one of Malamore's men point blank in his apartment.
Prince meets with Genny in Rome and convinces him to return to Naples to prevent war between Pietro and Ciro. Azzurra asks Genny to stay in Rome. Genny warns her not to come between him and his blood.
Genny, Malamore and Angelo meet with Carmine, Trak and Bomber. Genny and Carmine broker a deal to let the alley boys keep the Berlingieri territory as long as there is peace. Trak unexpectedly shoots Malamore and Angelo and declares that anyone with Savastano is against him. Carmine sides with Trak.
Patrizia informs Pietro that Malamore survived but Angelo is dead. Pietro declares that Genny's word is worthless.
Watch full episodes on sundance.tv.