Notes From Gomorrah Creator Roberto Saviano on Season 2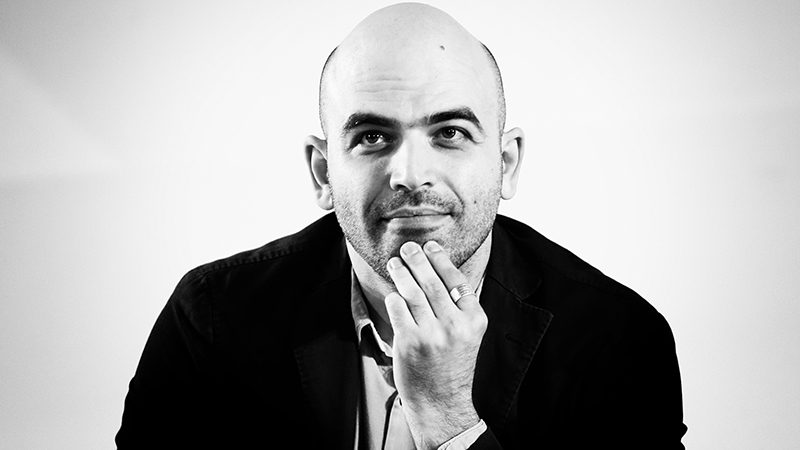 The Camorra, an Italian crime syndicate, serve as the inspiration behind Roberto Saviano's series Gomorrah, which is based on Saviano's novel of the same name. Saviano discusses the Season 2′s major themes, the importance of telling complex stories and the ways in which Gomorrah's tales of crime are applicable to the everyday viewer. Read on for more:
On Season 2 and returning to the cultural need to continue telling the story of Gomorrah…
It's a victory of stubbornness. This is what I think, now that I see Gomorrah's second season completed. I remember when I came up with the project of a series based on Gomorrah. Everybody, or at least my few remaining friends, discouraged me. In Italy, any kind of TV series was pretty much associated with a simplified version of a movie, the watering-down of a book, the exploitation of some brand. It was not at all a given to be able to create a TV series along the lines of quality, complexity, accuracy. Also, there were a number of production issues: the project I had in mind, and shared with the whole writers' team, totally dispensed with the whole notion of "good."
From the outset, what I had in mind was a whole story that would force the audience to be confronted with evil instead of avoiding it by siding with some positive character. This, in turn, caused another problem for production, because nothing like this had ever been done in Italy. I had literally no precedents. At that point, being able to meet up with Cattleya and Sky was crucial, because they believed in my vision and greenlit the project. The subsequent setup of an extraordinary team of writers and directors turned this experiment into a wonderful factory. Behind any great series lies the fundamental question of its urgency. When it is able to transcend what seems obvious to us, a series can break through to public resonance, and make it almost necessary.
On the major themes in Gomorrah…
Thus, beneath a family saga you can read the tale of a country, of an economy, of the relationship between men, their life and death. And so Gomorrah becomes this tale about how death is the game changer in the dynamics of power: if you're willing to live for your family, to live for your job, to live for power, to live for women, you are worth nothing. You must also be willing to die anytime – and to kill anytime. This is what gives a man (or a woman) potential for command. A predisposition for death: this is what we have tried, from the outset, to weave into our tale. The brutality is just part of it, a nuance. The chemistry that gets viewers hooked on a series happens whenever they are able follow a story that is radically opposed to their own daily lives, and yet clearly conveys a sense of continuity. How can you do this by chronicling crimes and massacres so far removed from the daily lives of the audience?
On making the crime world of Gomorrah relatable to the everyday person…
By showing that, in his head, a boss does the same kind of thinking as a CEO, a supermarket manager or a prime minister: power has only one dimension, and always the same kind of logic. And so, crime becomes a very powerful vehicle to speed up human and predatory mechanisms, freeing them from any veil of mediation. Crime boils it all down to basics: it exposes human relationship dynamics that can be found in any kind of context, be it office life or provincial family life; once these dynamics are free from all social or moral bias, they can provide a truthful image of the times. Behind an execution, behind any kind of power move, you can recognize yourself, which can be exciting and excruciating at the same time. As Foucault wrote, to understand a society you need to visit its prisons, hospitals and army barracks: the places where power cannot camouflage, the environments in which it can't just pretend to act on a legitimate basis. In much the same way, a tale of criminals shows a stripped-down, fictional version of life: the dregs of humanity as they are. Unfiltered. Human madness at its most irrational, as well as its strategic thinking, at its most sharp and analytic. That's why crime pays, at least in fiction: it's truth about life. Life, stripped down. And nothing else.
On violence in fiction…
Can crime as shown and told in fiction become, as it were, a criminal school for its viewers? No doubt this is a delicate and risky matter, because it can be used as a deceiving argument – convincingly, at least for minds that are not willing to see through its fallacy. It's very easy to say: whenever some kid shoots somebody on TV, a similar kid will do the same in real life. But it's not as simple as that. First off, because we would then have to forbid Shakespeare to avoid encouraging conspiracy, madness, suicide. We'd have to ban the Iliad and its strong, dangerous, violent passions. Or ban Aristotle, because all human classics are full to the brim with treachery, gore, massacres, stains of honor to be cleansed with steel blades and duels.
But, let's dispense with this argument which, although convincing, basically amounts to using the history of literature as a defense weapon. In the last few years I've repeatedly heard (and who knows how many are going to continue to use it) a truism along the lines of "fictionalized crime is bound to turn a simple mind watching it into a criminal mind." This is another misleading argument. In the same way that no movie showing what's good will ever bring any change to any criminal-infested area or reality at large, so the complexity of art itself is way too manifold and richly nuanced to allow itself to depict reality in such a mechanical, would-be smart way. And I deliberately say "would-be smart," because Gomorrah has often been accused of being a negative tale about a whole geographical area. Well, for Season 2 there has been a great degree of cooperation with the places involved, as it has generally been accepted that the story transcends the simplistic paradigm of Good and Evil.
On the importance of embracing complex storytelling…
The worst service you can do to whatever's good is to take it for granted, and the biggest favor you can do for evil is to picture it as predictable, easy, unreal. Storytelling is in itself a form of art, and to make it happen in a difficult area is a good thing. All the Camorra attacks of the last few months not only surpass the tale of Gomorrah, but also belie the hypocrisy that has surrounded this project in all these years. To tell is to know, and to know is to transform. There can only be tales well told, or tales badly told. It's a huge mistake to put tales of beauty and talent up against tales of brutality and contradiction; they are nothing if not parallel storylines that have to live side by side, and must not be pitted against each other. To spin a tale of evil takes talent, ability, knowledge of beauty. How is this so hard to understand? Not to be afraid of complexity: this is what I ask of myself when I create a series, a movie, a book. To be complex is the only way (or, at least, this is what I firmly believe) of creating a series that attracts an audience which not only wants to be entertained – but also to understand, to feel and to change.