SundanceTV Wins People's Voice Award in the 19th Annual Webby Awards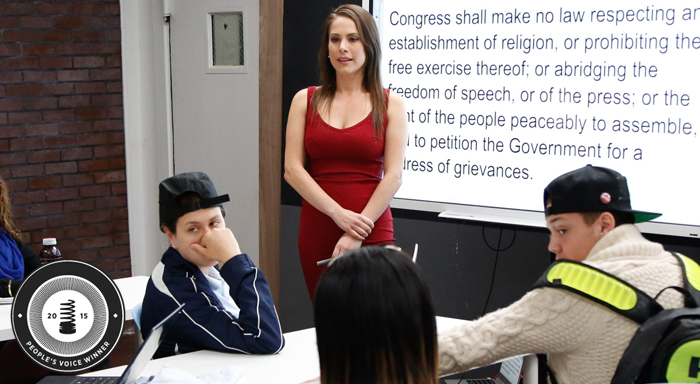 It was announced today that SundanceTV's DREAM SCHOOL web series with Ana Kasparian is a People's Voice Award Winner for "Best Online Film & Video: Reality" in the 19th Annual Webby Awards.
Hailed as the "Internet's highest honor" by The New York Times, The Webby Awards is the leading international award honoring excellence on the Internet, including Websites, Advertising & Media, Online Film & Video, Mobile Sites & Apps and Social. Established in 1996, The Webby Awards received nearly 13,000 entries from all 50 states and over 60 countries worldwide this year. The Webby Awards is presented by the International Academy of Digital Arts and Sciences (IADAS). Sponsors and Partners of The Webby Awards include: Grey Goose, Vitamin T, Shocase, Engine Yard, Funny or Die, Code and Theory, Happy Fun Corp, Advertising Age, Internet Week New York and Guardian News and Media.
The SundanceTV-winning series features The Young Turks' Ana Kasparian, who coaches NYC's toughest high school drop-outs in a journalism assignment. The students interviewed NYC Council Member Daniel Dromm on controversial topics ranging from stop-and-frisk to gay rights to public education funding.
Winners will be honored at a star-studded ceremony hosted by acclaimed comedian Hannibal Buress on Mon., May 18 at Cipriani on Wall Street in NYC.
Click here to watch the DREAM SCHOOL web series starring Ana Kasparian.