"DREAM SCHOOL" Summer Recipe: Celeb Chef Roy Choi's Salsa Verde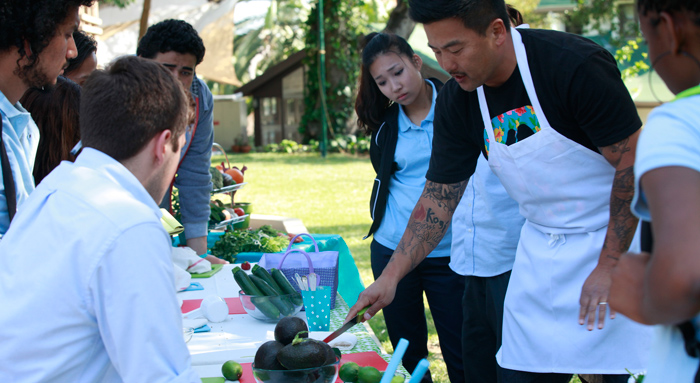 Last season on DREAM SCHOOL, celebrity chef and food truck aficionado Roy Choi cooked up a delicious summer meal with the students. Check out his very own take on salsa verde below, and add it to the chef's signature Blackjack Quesadilla for the perfect summer dish.
Salsa Verde
4 cups canola oil
1 peeled garlic
1⁄4 onion, peeled
5 jalapenos, stemmed
10 bunches cilantro, chopped
1 cup kosher salt
1 1⁄4 cup lime juice
1 1⁄4 cup orange juice
1⁄4 cup roasted sesame seeds
1. Cook garlic and oil in a pot on low heat until brown, stir constantly.
2. Roast jalapenos and onions in pan until almost black.
3. Cool garlic, oil, onions and jalapenos.
4. Once cool, puree with the cilantro, salt, juices and sesame seeds.
Want more DREAM SCHOOL? Take our celebrity quizzes for 50 Cent, David Arquette, Oliver Stone, Suze Orman, and Swizz Beatz. And don't miss the all new season coming in September.