Your Graduation's In Jeopardy! Hollywood's 7 Worst Excuses for Skipping School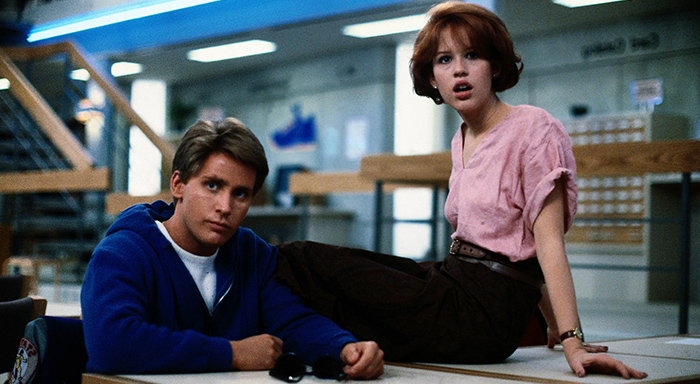 Ditching school. Cutting class. Playing hooky. If you're gonna do it, make sure you have a darned good reason and a damned good excuse. In honor of the announcement for season 2 of DREAM SCHOOL, here are our favorites.
1. We were forced to do drugs (21 Jump Street)
The key to being a good narc—which these two bozos are not—is actually attending class. But when duty calls, the fellas skip out to meet their drug connection in the yearbook office, sample the goods and hustle to the bathroom to "help" each other try to puke. Maybe cutting class isn't such a good idea.
2. School is too hard (Fast Times at Ridgemont High)
It's not that uber-stoner Spicoli plans to skip Mr. Hand's (Ray Walston) history class—he's just perpetually late. When asked to explain, the dude's sincerity could not be more endearing: a toootally confusing new schedule, the crowded food lines, or the now-infamous "I don't know." Aloha, Jeff.
3. Time to haze the freshman (Dazed and Confused)
As Richard Linklater unfolds the final day of high school in 1976, the seniors scatter to prepare for a very important ritual: The hazing of the incoming freshmen. They begin by warning the high school newbies, who sit unharmed in their last period class, with a special message for poor Mitchy, "Your ass is gonna be purple before the day's over. Have a nice afternoon."
4. The Ramones made me do it (Rock N Roll High School)
A hip, spunky chick like Riff could never be expected to comply with the Gestapo-like do-gooders running her school. So you can't really blame her when she doesn't show for three days, just to wait in line for tickets to see The Ramones. Excuses? Who needs them?! All you need to say is gabba gabba hey.
5. Her grandmother died (Ferris Bueller's Day Off)
If there's one wiseass who immortalized cutting class, it's the legendary Ferris Bueller (Matthew Broderick). But when it's time to extricate girlfriend Sloane from the clutches of high school, Ferris relies on a classic old standby, the dead grandmother routine. Sly, simple, unexpected.
6. I'm siiiick… and also I need to take care of my alien (E.T. The Extra Terrestrial)
Who can think about multiplication tables when there's a lonely space creature in your bedroom?! To make sure he can stay home, young Elliott plays sick—and plays on his single mom's sympathies. Of course, holding the thermometer up to the light bulb is the capper, a true stroke of kid genius.
7. My credit card told me to (The Breakfast Club)
In John Hughes' iconic high school detention opus, Claire (it's a family name) is revealed to be the only screw-up who's serving time for actually cutting class. And the stylish, snobby, sushi eater ducked out of school just to go shopping. Not original but, hey, it's better than getting nailed for a flare gun going off in your locker.
Ready to go back to school? See this years faculty line-up for DREAM SCHOOL.