"DEUTSCHLAND 83″ Season Recap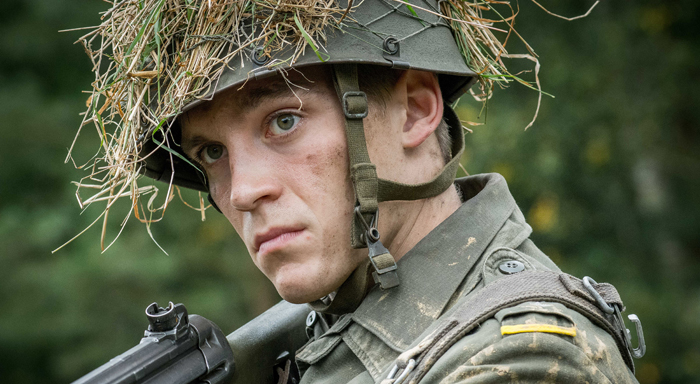 At the height of the Cold War in 1983, East German spymaster Lenora Rauch taps her young nephew, Martin, to infiltrate General Wolfgang Edel's staff in West Germany. Rauch and her HVA (East German secret service) superior, Walter Schweppenstette, abduct the reluctant Martin and shuttle him to the West.
Established spy Tobias Tischbier convinces Martin to comply, promising a kidney transplant for his ailing mother, Ingrid, and trains him in espionage. Meanwhile, HVA agent Nina assassinates Moritz Stamm, the young aide whose identity Martin will assume.
The new "Stamm" (Martin Rauch) reports for duty at the base and gathers information. At a barbecue to welcome the visiting American General Jackson, Stamm is forced to drug Edel's sister-in-law when she catches him making an incriminating call to his girlfriend Annett in the East. Not long after, Lenora manipulates the patriotic Annett into moving in to the Rauchs' to care for Ingrid.
Edel's idealistic son Alex begins attending anti-war meetings led by Tischbier, who is undercover as a professor.
Stamm manages to breaks into NATO official Henrik Mayer's hotel room safe and steals a floppy disk. When he returns to his own hotel room, another spy is waiting for him. She attempts to seduce him and then attacks him. Stamm manages to overpower her and push her over an indoor balcony. She hits the stairs below and flees, injured but alive.
Stamm courts Linda, Mayer's secretary, as part of a mission in which Stamm bugs the office of the NATO official. Linda comes under suspicion when the device is discovered. The HVA orders Stamm to either eliminate Linda or turn her into an asset. Stamm tries to manipulate her into gathering intelligence, but accidentally reveals his eastern allegiance. When Linda flees, Stamm requests help from Tischbier, who sends someone to kill her.
Stamm hooks up with Edel's soul-singer daughter, Yvonne. Meanwhile, Alex, after fighting with his father and leaving home, accepts Tischbier's sexual advances, leaving both young Edels entangled with spies.
Stamm receives word that Ingrid is in dire need and he must hurry to the East to give her a kidney. On the way, Nina gives him two coffee canisters to pass off at the Berlin border. When an explosion kills innocent bystanders moments after the hand-off, Stamm chases the other operative down, kills him, and disposes of the remaining canisters. He makes it to the hospital just in time for surgery.
Stamm initially refuses to return to the West, but Schweppenstette convinces him by sharing the HVA's paranoid misconception that Able Archer, the NATO operation whose preparations Stamm has observed, is a preemptive nuclear strike.
Alex is confused and offended when Tischbier tries to send him back to the army as an asset to observe Able Archer. He goes rogue, tracking General Jackson to a local brothel and forcing him to record a confession revealing the planned "nuclear strike."
The HVA dispatches Stamm to stop Alex. As he arrives, Jackson attempts to escape and accidentally kills a sex worker in the struggle. Stamm escorts both men to their respective homes, Alex just in time to meet with an internal affairs agent investigating his absence and reported illness.
Back at the base, Stamm discovers the real nature of Able Archer and tries to convince higher-ups to tell the Soviets to call off their own nuclear attack.
Annett invites Schweppenstette over for dinner to see her friend's illegal library of banned books stashed at the Rauchs' and learns that he is Ingrid's former professor and secretly Stamm's (Martin's) father. Schweppenstette recruits Annett to befriend and detain Yvonne, who is passing through East Germany on tour as a backup singer.
When protestors converge around the base, Edel orders Alex to use his familiarity with the movement to disperse them peacefully. Alex sees Tischbier in the crowd and crosses the picket line in uniform, humiliating his father, but when he tries to reconcile with Tischbier, the spy warns him he may have been infected with HIV.
Annett convinces Yvonne to stay the night at her house and ties her up with the help of Schweppenstette's codebreaker. Stamm makes it home and discovers the situation. He is forced to tie both Annett and the HVA employee to his kitchen table to free Yvonne. Annett tells Stamm she is pregnant with his child. Stamm drives Yvonne to the West German embassy.
Stamm bursts into the HVA office and interrupts a meeting between Schweppenstette, Lenora Rauch and their KGB superiors, managing to convince the chain of command that Able Archer is a test, just in time to avert nuclear war.
Alex gets tested for HIV and then returns to the Edels', where father and son are both depressed and alone. A single gunshot rings out.
Stamm rejoins his mother and Annett at home.
Which DEUTSCHLAND 83 episode was your favorite? Vote now!