5 Questions with "DEUTSCHLAND 83′s" Creator Anna Winger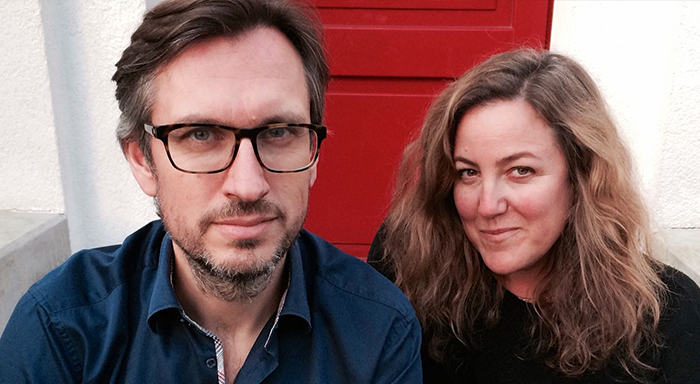 Anna Winger, creator and writer of DEUTSCHLAND 83, talks about her writing process, how she found Jonas Nay and creating the entire series in just a year.
Q: Was it difficult to find the actor to play Martin/Moritz?
I had seen Jonas Nay give an amazing performance in a TV movie called Home Video, so I pictured him in the role when I was writing from the start. He was always my Moritz!
Q: Did you interview people involved in espionage during development?
We interviewed people with intelligence experience during 1980s Germany, on both sides of the Wall. Also, politicians, Cold War historians, journalists and a Stasi archivist. One historian in particular, Klaas Voss at the Hamburg Institute for Social Research, was really helpful. He knows so much about espionage in the 1980s. And he has a great sense of drama!
Q: Tell us about the writing process.
The whole development was extremely condensed. I started writing the pilot just before Christmas 2013 and we finished shooting just before Christmas 2014! One year, soup to nuts.
German TV isn't set up financially to support an American-style writers' room, where writers work full-time on a show. Four other writers came on after I had written the pilot and the season arc, all friends: Steve Bailie, Andrea Willson, Ralph Martin and Georg Hartmann. We brainstormed together for about a week, which was great. Then each of them wrote one episode and I wrote the other four. After a few drafts, I took over all the scripts to bring the season together into one voice. Then the two directors came on board as we started to prepare for production.
My husband Joerg was involved from day one, of course. He's a really experienced showrunner, so I couldn't have had a better partner my first time out. This project has been a great collaboration for the two of us. And because I wrote the original scripts in English, he did the German polish.
Q: This is your first TV series. What did you like best about the experience?
I have my writing office in the former Tempelhof airport terminal—the 4th biggest building in the world—where sometimes I don't see anyone else for a week! So I loved working with other people on this project: producers, directors, actors and especially the other writers. If budget would allow for it, I would always work with a writers' room. Stories get so much richer through collaboration.
Q: You studied film at Columbia University?
I majored in film studies as an undergraduate, which at the time involved watching a lot of films frame by frame with Eastern European professors. It was fantastic! After I graduated I worked as a photographer for many years. I started writing novels and essays when I moved to Germany and my first daughter was born. This is my first TV series, but I guess you could say I've gone back to my roots. I love screenwriting because the storytelling is so visual. It brings together both sides of my brain, the writer and the photographer.
Read for more interviews with the cast and crew of Deutschland 83, including Jonas Nay, Sonja Gerhardt and more.