6 Questions with "DEUTSCHLAND 83″ Composer Reinhold Heil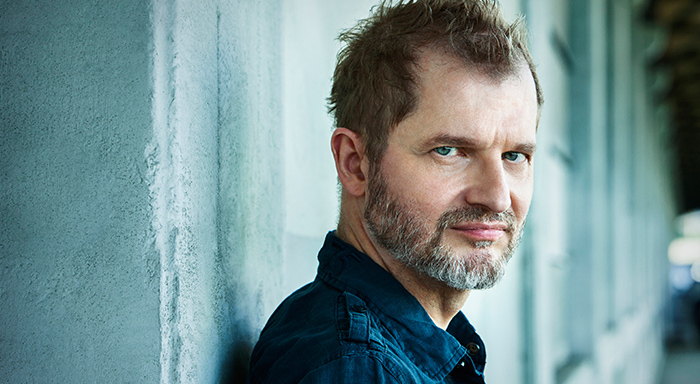 DEUTSCHLAND 83 composer — and Golden Globe nominee — Reinhold Heil talks about the music scene in Berlin, his roots as a keyboardist and his iconic song "99 Luftballons.
Q: You studied in West Berlin during the Cold War. What was the music scene like?
A: It was pretty diverse and very inspiring. There wasn't just one scene, there were about a dozen of them: jazz, rock, punk, classical, avant-garde, electronic, disco, German Schlager (similar to middle-of-the-road music), funk, left-wing political rock theatre, even country, and anything else you could imagine. And often the musicians didn't want anything to do with each other since they felt that only their music was the real thing. I was in a band that played jazz-fusion music — think Miles Davis' Bitches Brew or Weather Report. There were lots of great bands around at the time, some of them even made it big, like Tangerine Dream. David Bowie lived in Berlin in the late '70s and made a few very cool albums at a studio called Hansa by the Wall, which was located just a few meters from the "death strip" by the section of the wall that was adjacent to Potsdamer Platz.
Q: In the '80s and '90s, you were known as one of the best keyboardists in Europe. Did you draw on your rock roots for inspiration with DEUTSCHLAND 83?
A: I tried not to. The producers wanted a contemporary score, not music of the period. The period aspect is taken care of by the songs that are featured in the episodes. But in my cues the vibe of the times slipped out on a few occasions and the producers went with it. Obviously I have a knack for working with synthesizers since that's the world I'm steeped in and I'm happy to use the keyboard as my main way to input ideas into the computer. But as a film composer, you have to do it all. I have always considered myself a percussionist and I love using my extensive and eclectic collection of instruments as sound generators for my custom sample library. I love sounds that originate from organic sources, which I treat and wrangle into electronic textures.
Q: Do you have a favorite musical artist from 1983?
A: Those years are a blur because I was constantly working in the studio or touring with my band. Back then I liked Depeche Mode, Human League, and Orchestral Manoeuvers in the Dark, just to mention a few. I was also a big fan of the albums Kraftwerk produced from 1978 to 1983.
Q: You produced the famous Nena hit "99 Luftballons," featured in the first episode of DEUTSCHLAND 83. What do you think made the song the cultural staple it remains today?
A: The song has a very catchy melody with great German lyrics that capture the threat of thermonuclear destruction in a counterintuitively playful, but also emotional way. When I produced the album in 1982, the band was very well rehearsed and so I had the keyboarder and Nena perform their parts live with no click track, just feeling it out together. I chose the first or second take in order to maintain all of the emotion and freshness of the performance. It wasn't the most perfect take but I still think it was the right thing to do. No auto tune, not even comping together several takes, just raw talent and authentic emotion.
Q: You were nominated for a Golden Globe for Cloud Atlas. Has being nominated impacted your career?
A: I don't think the Globes impacts anybody's career as much as the Oscars do. But it's always great to be recognized, especially for a project that was such a huge challenge. We created 98% of all the music that you hear in the movie. Even the source music consists of stark variations of the Cloud Atlas Sextet. The music glued together the very disparate stories that the movie constantly jumps between. I'm certainly ready to compose a big movie score again, but I'd say that working on a TV series with a continuous story arc like DEUTSCHLAND 83 is quite similar to working on a six-hour movie.
Q: What are you working on next?
A: I will soon start working on the second season of TNT's Legends, starring Sean Bean. It will be quite different from season one, which played mostly in Los Angeles. Season two takes place in Europe and spans different time lines. Should be fun!
Be sure to tune in for the premiere of DEUTSCHLAND 83 Wed., Jun. 1