6 Questions with "DEUTSCHLAND 83″ Star Sonja Gerhardt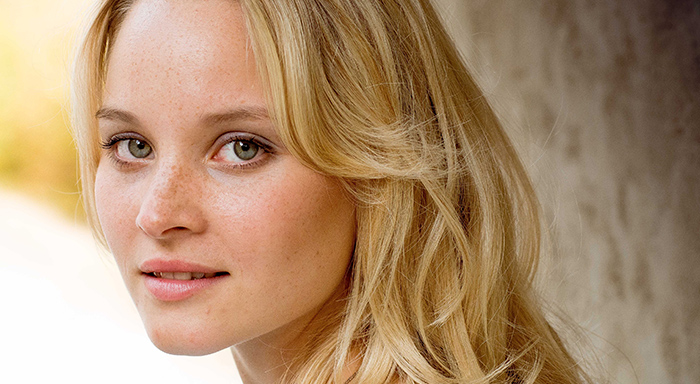 Sonja Gerhardt, who plays Annett Schneider, Martin's fiance and childhood sweetheart in DEUTSCHLAND 83, talks about memories of her mother singing along to Nena's "99 Luftballons", her own childhood in Berlin and her fantasy to become a female James Bond.
Q: Did you study the Cold War in school? Did you learn anything new from DEUTSCHLAND 83?
A: Of course we also covered the theme "Cold War" at school, but unfortunately not very intensively. Because of DEUTSCHLAND 83, I could refresh my history knowledge again, and relive this historic moment for myself—this was very interesting! Before the filming, I had a hard time imagining how the Stasi operated and how it was involved in the events. That's why in preparation for the series, I talked to many people from that era and I watched a lot of documentaries. Sometimes it was unbelievable what I learned from the research.
Q: Can you imagine being a spy yourself?
A: Of course, I can imagine becoming the female version of James Bond. [Laughs] Relating to that time, it would have been unthinkable for me to spy on other humans, especially to spy on my friends and acquaintances, in order to hand over this information to the state. To me this is equivalent to treason and therefore it is absolutely unacceptable.
Q: Do you like '80s music? Do you have a favorite song from that era?
A: I am a child of the late '80s and also like the music from that era. For example "99 Luftballons" by Nena, "Rock me Amadeus" by Falco and "Let's Dance" by David Bowie are all songs that I liked to listen to. I remember very well when my mother was in the car, singing loudly along with "99 Luftballons."
Q: You were born in Berlin. Do East and West Berlin still have distinct characters?
A: When I was younger I danced in the children's dance ensemble of the Friedrichstadt-Palast, the biggest revue theater in Europe, which was located in former East Berlin. The members were from the East as much as from the West. I remember one situation, when a dancer, who was from the East, said that our dance teacher was arrogant and so typically West German. This was the first and only time that I was confronted with a prejudice of East versus West. For me, Berlin only exists as unity. Berlin is colorful, cosmopolitan and exciting—East or West, it doesn't matter!
Q: This is the first German speaking show on US TV. Have you been to the states before?
A: When I was 12 years old, I was with my family for the first time in Florida. And of course we had to visit Disney World, because I love Disney movies. This vacation was an amazing adventure for me! After this, unfortunately, I didn't manage to travel to America for a long time. But last year, spontaneously, I had the chance to explore Las Vegas for a week. This was definitely a worthwhile experience.
Q: What are you working on next?
A: I just finished shooting for the new MYVideo series Der Lack ist ab, and soon I will be in front of the camera for an interesting new project, but I am not allowed to talk about it at this moment. Besides this, I have an upcoming series, with the working title Vancouver Bay, on German TV. I worked on it for two months in Canada.
Translated from the original German by Gisburg Smialek.