6 Questions with "DEUTSCHLAND 83″ Star Jonas Nay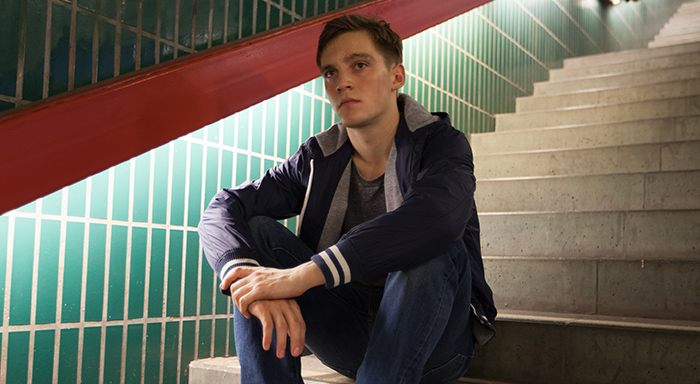 Star of SundanceTV's DEUTSCHLAND 83, Jonas Nay, talks about '80s bands he loves, his own spy skills and the name he would pick for his alias.
Q: Did you talk to anyone from the Cold War as research?
A: My closest adviser for historical questions and in NATO maneuvers, like "Able Archer" for example, as well as for my conduct as an ordnance officer, was the military adviser and NATO expert Steffen Meier, who helped me in my preparations for the role, as well as on location. He is a former high-ranking military adviser of the West German army during the Cold War and therefore could help me with firsthand experience on a political and military level.
The authors and producers—Anna and Jörg Winger, who got me excited for the show right from our first meeting—were deeply immersed into the topic and provided me with selected materials during the time I had to get prepared for the show.
Q: How did playing two roles—Martin and Moritz—affect your approach as an actor?
A: Martin and Moritz is not a double-role in the usual meaning. Martin adopts the identity of Moritz Stamm, and finds himself forced within the shortest time to change his front. His personality and also his worries, like leaving behind his sick mother and his girl-friend, his learning how to adapt to a new surrounding, a differently-influenced culture and a new working place, are still the worries of Martin.
From this moment on Martin changes his personality—specifically through his experiences in the role as Moritz. This enormous and emotional journey was the biggest challenge for me as an actor, also because of the non-chronological shoot.
Q: Have you gained any spy skills along the way?
A: The biggest challenge for Martin was not to be recognized as an East German. So first I had learned a lot about the essential differences between the common education and etiquette between a boy of my age growing up in the West versus a boy growing up in the East. Besides this, I received military training, shooting training, martial arts training and how to handle spy tech from the early '80s.
It has been a long time since I was in such good shape, like I was during the production time. And most likely I wouldn't have been a good spy, but I could have run like [one].
Q: Do you have a favorite song or movie from that time period?
A: I am a big Sting and Police fan. Luckily, this great band found a musical place on the TV show.
Q: This is the first German-speaking show on US TV. Have you been to the states before?
A: Never. This is my first chance, thanks to the invitation from SundanceTV, to come to NY. I really want to somehow manage to get to a New York Jazz club. That's my biggest dream.
Q: If you had to pick a name for your alias, what would it be?
A: Joe Kringel.
Translated from the original German by Gisburg Smialek.