6 Questions with Alexander Beyer of "DEUTSCHLAND 83″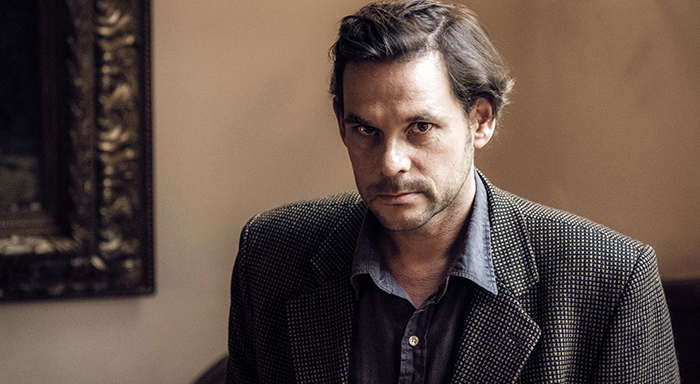 Alexander Beyer plays Martin's mentor in the HVA (Foreign Arm of the East German Secret Service), Tobias Tischbier. In real life, Beyer feels strongly about the cultural and political aftermath of the Berlin Wall and is hoping for a second season of DEUTSCHLAND 83.
Q: Where were you when the Wall came down in Germany?
A: In contrast to Angela Merkel, who almost missed this important day by spending the day in a sauna, we were heating up in a demonstration. I was with my pen pal in Dresden, to the best of my knowledge and conscience.
Q: Is there still a big difference between East and West Germany?
A: Oh, I am afraid there are even a lot of differences, which would be worth to be examined.
Q: What's the most surprising thing you've learned about German history from DEUTSCHLAND 83?
A: That we were that close to a nuclear first strike. This, I really didn't know—since we were behind the Iron Curtain, we were completely brainwashed. The GDR wasn't formed out of free will. It didn't have freedom of expression and it didn't have freedom of religion. The GDR was a state of injustice.
Q: You grew up in the '80s. Do you have a favorite song from that time?
A: Laurie Anderson, "O Superman."
Q: This is the first German speaking show on US TV. Have you been to the states before?
A: Yes, to Los Angeles for the 73rd Academy Awards ceremony in 2001. (Beyer starred in Gregor's Greatest Invention, which was nominated for Best Short Film, Live Action.)
Q: What are you working on next?
A: I am performing in a role right now, as the unscrupulous computer hacker Anselm Brandt. Our shooting location is the Teufelsberg, at the West Berlin outskirts with its distinctive honeycomb-shaped buildings. There, on top of the hill, were the flight-surveillance and wiretapping stations of the US Army.
And I will work on our second season of the show soon, at least this is what I hope for!
Translated from the original German by Gisburg Smialek.
Want more DEUTSCHLAND 83? Check out the interview with star Jonas Nay.