Blast From the Past: Top 10 Movies of 1983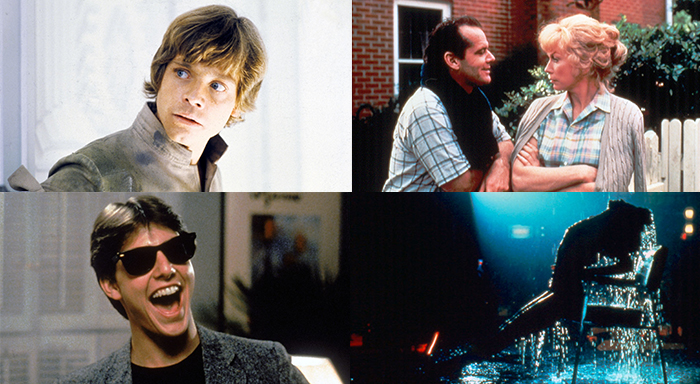 The year was 1983. The Police and Michael Jackson ruled the music charts. On the small screen, we said goodbye to M*A*S*H and hello to Fraggle Rock. And at the cineplex, we got to see some of the best movies of our time. In honor of a crazy year with even crazier movies, here's a list of some of our favorites 1983 films for you to remember.
1. A Christmas Story
A 9-year-old boy named Ralphie (Peter Billingsley) wants only one thing for Christmas: an "official Red Ryder carbine action 200-shot range model air rifle." But as everyone in his life—including a department-store Santa Claus—warns him, "You'll shoot your eye out!" Based on the Hammond, Indiana childhood of radio personality and author Jean Shepherd (who also serves as narrator here), this movie will have you wistful for your '80s upbringing and its pre-WWII milieu.
2. Flashdance
Welder by day, exotic dancer by night, Alex (Jennifer Beals) captured the fancy of an entire generation with her unforgettable "He's a Dream" striptease. To this day, nobody can wash away the image of that bucket of water dousing our favorite aspiring ballerina. Talk about the fantasy of a decade.
3. National Lampoon's Vacation
One of the biggest cult hits of all time, Vacation follows frustrated patriarch Clark Griswold (Chevy Chase) as he drags his family on a cross-country journey to the famous (and fictitious) "Walley World" theme park. Based on screenwriter John Hughes' childhood vacation to Disneyland, Vacation proved so timelessly hilarious that Hollywood will release a remake starring Ed Helms in July 2015.
4. Return of the Jedi
A long, long time ago in a decade far, far away, the space-opera trilogy that began with Star Wars in '77 came to a close with Jedi, which has it all—espionage, lightsaber duels, patricide, secret siblings and more. Fortunately for us, the stories of Luke Skywalker, Han Solo and Princess Leia continue in The Force Awakens later this year.
5. Risky Business
Coming-of-age movies were a dime a dozen in the '80s, but this provocative rom-com also happened to launch Tom Cruise's career into the stratosphere the moment he slid across the screen in that pink dress shirt and those tighty-whities. A satire with deep meaning, Risky Business is disarming, perceptive, inspired and wickedly funny.
6. Scarface
In the days before antihero protagonists were so common, Tony Montana (Al Pacino) cut a classic figure as a bad guy who sees the whole world as his for the taking. The crime drama to end all crime dramas, Scarface offers prodigious amounts of cursing, shooting and drugs. Yet through it all, Tony's a character we can't help but love. "Say hello to my little friend!"
7. Terms of Endearment
With 11 Oscar nominations and five wins (including Best Picture), this melodramatic adaptation of Larry McMurtry's novel swept moviegoers away with its irresistibly tearjerker story about a complex mother-daughter relationship that spans 30 years. With kick-ass performances from Oscar winner Shirley MacLaine and Jack Nicholson, what more could you want? (Well, maybe we'd want Debra Winger to stick around at the end.)
8. The King of Comedy
In Martin Scorsese's follow-up to Raging Bull, Robert De Niro reunites with the acclaimed director to portray Rupert Pupkin, a wannabe comedian who hosts an imaginary talk show in his mother's basement—until he decides to create his own big break by stalking an actual TV host (Jerry Lewis) and kidnapping him in exchange for small-screen exposure. A black comedy that was way before its time, King of Comedy exposed the ugly and dangerous sides of pop-culture obsession and celebrity worship.
9. The Right Stuff
Winner of four Oscars, director Phillip Kaufman's ensemble drama brings viewers into the lives of the original Mercury astronauts, including Alan Shephard (Scott Glenn) and John Glenn (Ed Harris). Based on Tom Wolfe's "non-fiction novel" of the same name, The Right Stuff tells the tale of these astronauts' personal lives in rich and intimate detail while also chronicling their bold forays into the final frontier.
10. Trading Places
An incredibly rich but outrageously corrupt broker (Dan Aykroyd) meets a homeless hustler (Eddie Murphy) in this modern-day retelling of The Prince and the Pauper. A comedy classic to this day, Trading Places is one of the highest-grossing R-rated movies of all time, and arguably the best movie of both Aykroyd and Murphy's careers.
This list have you longing for yesteryear? Set your time machines—SundanceTV's coming of age story set in the' 80s, DEUTSCHLAND 83, is set to premiere on Wed., Jun. 17 at 11/10c.
Want some more blasts from the past? Check out our list of the top 10 time-bending movies.