"CLOSE UP WITH THE HOLLYWOOD REPORTER" Season 1B Recap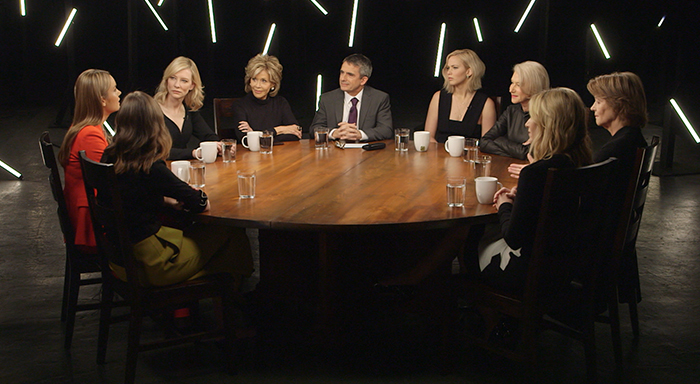 Talent (from both behind and in front of the camera) associated with Hollywood's most acclaimed films for 2015 sit down to discuss their craft and some true stories from the biz.
Episode 8: Producers
The producers of 2015′s most provocative films — Scott Cooper, Ice Cube, Steve Golin, Simon Kinberg, Stacey Sher, and Christine Vachon — talk about what it takes to get a movie made.
Episode 9: Writers
Screenwriters Emma Donoghue, Nick Hornby, Meg LeFauve, Tom McCarthy, Amy Schumer, and Aaron Sorkin let us know what they would rewrite if they could, what their biggest mistake was, and if they use Twitter.
Episode 10: Directors
Six innovative directors — David O. Russell, Alejandro G. Inarritu, Quentin Tarantino, Danny Boyle, Tom Hooper, Ridley Scott #&151; discuss filming in inclement weather, working with talent, and their regrets.
Episode 11: Actresses
Cate Blanchett, Jane Fonda, Brie Larson, Jennifer Lawrence, Helen Mirren, Carey Mulligan, Charlotte Rampling, and Kate Winslet let us know why they act, if they watch themselves on screen, and who they want to work with.
Episode 12: Actors
Michael Caine, Will Smith, Benicio Del Toro, Joel Edgerton, Samuel L. Jackson, and Mark Ruffalo dish on racism versus prejudice, the pain of realizing you're too old to play the love interest, and who has taught them the most.
Episode 13: Documentary Filmmakers
Documentary filmmakers Amy Berg, Kirby Dick, Liz Garbus, Alex Gibney, Michael Moore, and Elizabeth Chai Vasarhelyi talk avalanches, prickly trustees, and death threats.
Episode 14: Cinematographers
Robert Richardson, Mandy Walker, Danny Cohen, Alwin Kuchler, Masanobu Takayanagi, and Linus Sandgren elaborate on who taught them the most, their biggest mistakes, and how they really feel about their movies being watched on phones.