"CLOSE UP WITH THE HOLLYWOOD REPORTER" Documentary Filmmakers Roundtable Recap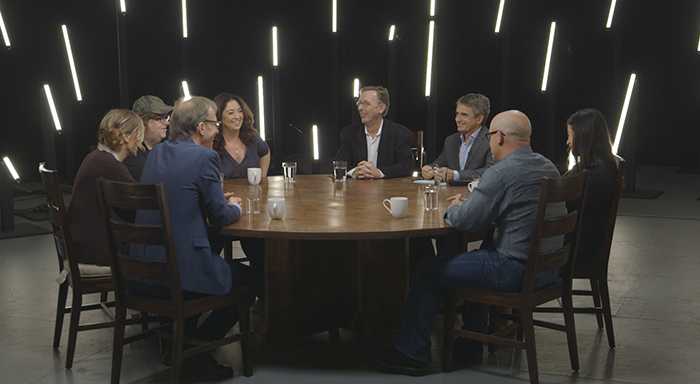 On this episode of  CLOSE UP WITH THE HOLLYWOOD REPORTER, The Hollywood Reporter's executive editor of features Stephen Galloway and film editor Gregg Kilday hosts a roundtable of the documentary world's biggest names. The impressive bunch includes political provocateur Michael Moore (Where to Invade Next), chronicler of collective cultural obsessions Alex Gibney (Going Clear, Steve Jobs); and Amy Berg (Prophet's Prey, Janis: Little Girl Blue), whose diverse filmography includes both a gripping true crime doc and a narrative crime thriller. Also at the table are Kirby Dick (The Hunting Ground), most acclaimed for his investigations into sexual violence within powerful organizations; Liz Garbus (What Happened, Miss Simone?), best known for previous meditations on the lives of mysterious mid-century celebrities such as Marilyn Monroe and Bobby Fischer; and the always viscerally immersive filmmaker Chai Vasarhelyi (Meru).
Michael Moore downplays his reputation when Galloway asks if his celebrity status has caused issues with his investigative techniques, laughing, "You think I'm a celebrity?" Moore gets serious: "Because I'm known is it harder for me to walk into a place and it's like 'Here comes trouble'? Yes, of course, that makes it more difficult. But that makes it more fun for me because it gets more challenging." Moore also mentions his pleasure at the fact that his latest tongue-in-cheek travelogue was able to successfully "fly under the radar in this age of social media" during production.
Amy Berg discusses the intricacies of getting the rights to bring a biographical film to the screen: "This is why it takes so long for music documentaries, because we are trying to negotiate our space with the people who hold the estates."
Liz Garbus chimes in, fresh from the success of her look at the life of troubled singer Nina Simone: "And those family members, they just have to take that leap of faith with you. Otherwise it doesn't work. If they're on you all the time, the film won't happen, it'll just die."
Berg agrees and comments on her good fortune with the surviving family of her subject, Janis Joplin: "They are notorious for being difficult in terms of the fictional projects that have tried to get off the ground, but with me they trusted my vision. I've been working with them for eight years now, and they trusted my vision from the beginning, from the first trailer."
Alex Gibney comments on the role of social media in modern film promotion after all panel members agree that using Twitter and other platforms has become essential, opining, "I think that's very important, to engage. Even if there's hostility, and I certainly have experienced some." Gibney defers to the even-more-experienced-with-hostility Moore, who tells a disturbing story about an attempt made on his life by a disgruntled viewer. Gibney nevertheless agrees about the pleasures of dealing with production challenges: "What I usually find is that when your road is blocked, it ends up causing you to take a much more interesting path than you otherwise might have done."
Kirby Dick weighs in on hostility from audiences and subjects alike, with an interesting suggestion about investigations into controversy: "If you don't get that reaction, perhaps you haven't made the film strong enough." Dick, whose films have interrogated sexual abuse in the Catholic church, sexual assault in the military, and now student-on-student rape on college campuses, explains of his painful subject: "This is something that people want to cover up, they want to do everything they can, society, individuals, schools—you name it, they want to cover it up."
Chai Vasarhelyi tells the very unusual story of how she ended up marrying the subject of her latest doc, first joking, "I did. And I don't regret the decision." Vasarhelyi explains of her relationship with mountain climber and co-director Jimmy Chin: "I had always been a big believer in church and state. If someone wanted to date, I didn't want to make a film with them. But with this material, I got involved with the film before Jimmy and I became romantically involved, and we fell in love."
Click here to watch the full episode of CLOSE UP WITH THE HOLLYWOOD REPORTER: Documentary Filmmakers Roundtable.