"CLOSE UP WITH THE HOLLYWOOD REPORTER" Directors Roundtable Recap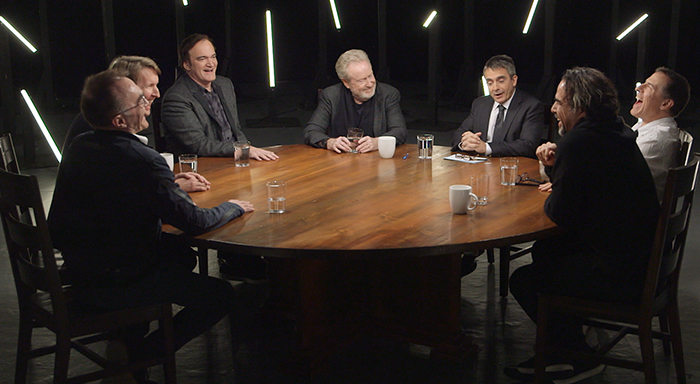 Stephen Galloway, Executive Editor of Features at The Hollywood Reporter, hosts a roundtable of legendary filmmakers on this week's  CLOSE UP WITH THE HOLLYWOOD REPORTER.
Alejandro Gonzalez Inarritu, who walked away with an armful of last year's Oscars for 2014′s Birdman, says Clint Eastwood warned him new project The Revenant wouldn't be an easy one. "[Eastwood] said, 'You are dealing with horses in the snow. I was offered one of those and I didn't take it. Sorry for you.'" Inarritu opens up on the production's difficulties: "It's extremely challenging. Thankfully I started doing location scouting for The Revenant five years ago… Negotiating with the weather is like a terrorist… Everything can explode at any moment."
Quentin Tarantino, who helmed his own snowbound Western this year with The Hateful Eight, chimes in, "We had a lot of the same issues and one of the things that kind of prepared me for it was watching that documentary about Apocalypse Now," referencing legendary behind-the-scenes feature Hearts of Darkness.
Speaking of challenging genres, Danny Boyle addresses Alien director Ridley Scott's return to extraterrestrial subject matter with The Martian. "I made a space movie. It's called Sunshine. It's weird making space movies because you are in the footsteps of people who went before, principally him!" Boyle laughs, nodding to Scott. Boyle gives the veteran filmmaker props for disproving his pet theory: "No director who's been in space ever goes back to space unless he's got to do a sequel. And then [Scott]'s defied that with The Martian and he sits there and he says it wasn't any problem at all!"
Galloway asks David O. Russell about his continuing collaboration with Jennifer Lawrence in Silver Linings Playbook, American Hustle, and now Joy. "You know, we have to agree and be excited about it mutually. And it has to be something we've never done before." Russell elaborates on the appealing newness of the latest film's story: "I never saw 'the best divorced couple in America.' What is that? …. Anna Karenina is a soap opera. But [Karenina], when she loses the guy, throws herself on the train tracks. Not Joy… She keeps going and the guy becomes her best friend. I haven't seen that movie. And he works for her!"
Tom Hooper praises The Danish Girl star Eddie Redmayne for his portrayal of a fictionalized version of Lilli Elbe, one of the first known recipients of sexual reassignment surgery. "He prepared full-time for a year for that role, which is extraordinary. He did a lot of outreach with members of the transgender community and met trans women and men and was very inspired by their stories." Digging deeper, Hooper describes the approach to filmmaking the research inspired: "A lot of it was this idea that if you are a woman and your male self is a mask, how do we make it feel that it's not a film about a character transforming, it's a film about a character revealing."
Danny Boyle reveals that his most recent star, Michael Fassbender, portraying another real-life figure, the titular Steve Jobs, inspired a permanent change in Boyle's on-set technique: "He said to me, 'Will you always shoot the rehearsal? Always shoot it.' And we did and I will always do that now forever more… It lifts everybody."
Ridley Scott demonstrates just how different two directors' processes can be: "I never rehearse. Ever." Scott doesn't even court insight into actors' planned approaches in auditions: "When I'm talking to an actor or actress about 'Will we work together or not?', I talk about everything but the bloody screenplay because I want to just know who you are."
When Tarantino confirms his oft-mentioned plan to retire from filmmaking after his tenth feature, Scott (who at 78 shows no signs of slowing down as a creator) appears incredulous, asking what Tarantino will do instead of making movies. "I want to write novels and I want to write and direct theatre," the Hateful Eight auteur reveals.
Scott nods knowingly, "Same thing."
Click here to watch the full episode of CLOSE UP WITH THE HOLLYWOOD REPORTER: Directors Roundtable.