"CLOSE UP WITH THE HOLLYWOOD REPORTER" Actresses Roundtable Recap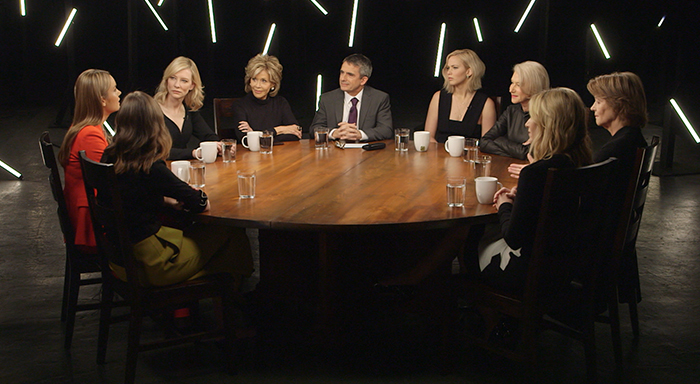 On this week's CLOSE UP WITH THE HOLLYWOOD REPORTER, The Hollywood Reporter's Stephen Galloway hosts eight of film's most talented Actresses.
Jennifer Lawrence speaks on the benefits of her ongoing (now three-film) collaboration with Director David O. Russell, including latest release Joy. "We have such a shorthand. I actually had to apologize to this director of [2016's] Passengers because I kept interrupting him. I wasn't even meaning to be rude, but David can start to talk and I know exactly what he's going to say… It's so honest because we don't have to go through the getting-to-know-each-other period, being polite to each other. It's just real and immediate. I want to work with each other until one of us dies."
Carey Mulligan downplays the challenges of shooting harrowing historical drama Suffragette: "All the scenes that you always think are really hard are the reason you take the job… There's always the things that you think are going to be tough. Like I've been nude once and I was like, 'Oh, that's going to be a nightmare,' and actually it was kind of fine."
Room star Brie Larson explains why she didn't meet with actual kidnapping victims of the sort she depicts in the movie: "I'm a big believer in privacy and I didn't feel like it was my place to invade their space and ask them about that… I had been given some videos of the very rare times the these girls have done public interviews and they just broke my heart and made me so angry."
Kate Winslet reveals what drew her to the hyper-verbal Steve Jobs. "I wanted to be a part of this film because I knew it was going to be a very, very unique experience. And it absolutely was, because of the construction of it…in three acts. And so the only way to do that was to fully rehearse it like a play and absolutely learn it as such… We wouldn't have been able to retain that dialogue and to feel free with it if we hadn't drummed it in and really drilled it the way we did in rehearsal. We had ten full days of rehearsal for each actor."
Cate Blanchett, who stars in acclaimed drama Carol and has extensive experience acting and directing on stage, weighs in on the relationship between film and theater performance: "Both mediums feed each other. I know more now how to use a wide shot because of working in a frame on the stage, and I know much better how to be present and immediate and intimate with a six-thousand seat house because of doing a close-up."
Charlotte Rampling muses on one of her new film 45 Years' pet themes, the aging process: "When I was younger I was actually looking forward to getting older to have more insight, more understanding… I'm much more tolerant with others and with myself, which means that I have got to a certain understanding. I'm not in rebellion all the time, I'm not angry so much. But they're useful, those feelings, when we're younger. They're really useful because they fire us, they lead us on."
Helen Mirren sees value in even younger performers, explaining, "I always think on screen babies and animals are my inspiration… because they are so alive and there and not messed up in their heads the way I am!" On a more serious note the Woman in Gold star bemoans a needless lack of substantial roles for actresses: "There's always male roles I want to play. I'm so annoyed when I watch movies and go, 'That could have been played by a woman'… It's driven me crazy in my career to watch wonderful, brilliant actresses, my contemporaries when I was younger, really kind of diminish and their careers disappear and mediocre male actors carry on."
Jane Fonda agrees, "For a woman, who's older, it's very difficult." Fonda adds, "I feel very lucky because I've always had things in my life that were as important to me as acting. For me it was activism… What I did when I was in my forties is I simply made and produced my own movies, because nobody offered me anything."
Click here to watch the full episode of CLOSE UP WITH THE HOLLYWOOD REPORTER: Actress Roundtable.