"CLOSE UP WITH THE HOLLYWOOD REPORTER" Actors Roundtable Recap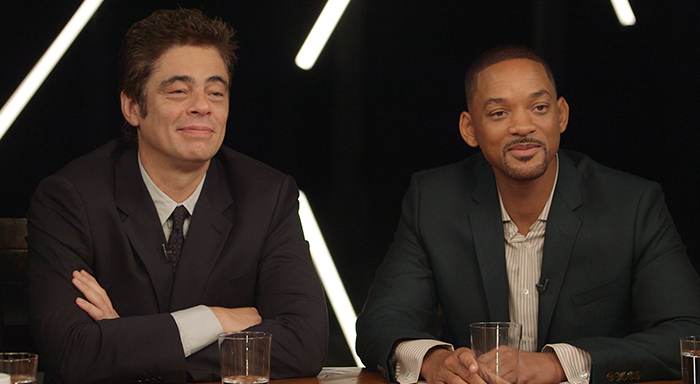 In this week's CLOSE UP WITH THE HOLLYWOOD REPORTER, Stephen Galloway and Matthew Belloni host a roundtable of some of 2015′s most acclaimed male movie stars including Michael Caine (Youth), Samuel L. Jackson (The Hateful Eight), Mark Ruffalo (Spotlight), Benicio Del Toro (Sicario), Joel Edgerton (Black Mass) and Will Smith (Concussion).
Jackson cracks good-natured jokes at the other actors' expense throughout the discussion, but first gets serious about what drew him to the role of Major Marquis Warren in Quentin Tarantino's latest: "Every character he's ever written for me has been a very intelligent, very driven person."
Belloni asks Caine what prompted him to return to acting after announcing his retirement. "I don't miss it when I'm not doing it, but I keep retiring and then something comes up," Caine explains.
Smith reveals what drove him to sign onto a project on such a potentially unpopular subject as brain damage in the NFL: "It was just meeting with Dr. Omalu."
Del Toro shares how he got into the head of his complex Mexican-national CIA agent in Sicario: "His family was killed, so I understand that anger. I understand that this man, being Mexican, would go and join a semi-covert American group that would invade his own country, because that anger that he feels resonates around his country."
Edgerton explains why he didn't visit the real-life FBI-agent-turned-convicted-felon he portrays in Black Mass. "I just felt like it was the wrong idea for me to go and milk him and then say, 'Alright, you stay in prison. I'm going to go over here and be on a movie set.'"
Spotlight's Ruffalo had this to say about the investigative journalists that broke the infamous 2002 story on sexually predatory priests in Boston: "You have to get that story right otherwise it's just going to be picked apart like a hunk of bread in a koi pond." On a lighter note, Ruffalo shares a first impression of a fellow panel member: "Me and Benicio started acting school together… and I could see the talent flying off of him and I said to myself, 'I'll never be able to do what that guy can do.'"
Later, Caine reveals the greatest disappointment of his career: "I got very friendly with Alfred Hitchcock, and then he offered me a part in a movie to play a sadistic woman killer…. I refused it… and he never spoke to me again."
Wrapping up, Joel Edgerton tells the story of nervously revealing his artistic ambitions to his high-powered attorney father, whom he assumed would disapprove: "What I found is that really, deep down, he wanted to be an actor. And very much, I think, the reason I'm interested in storytelling is because as a kid growing up he made the most fantastic speeches and told the most wonderful jokes and stories."
Click here to watch the full episode of CLOSE UP WITH THE HOLLYWOOD REPORTER: Actors Roundtable.