Amy, J-Law, Taraji, Viola and Other Hollywood Sheroes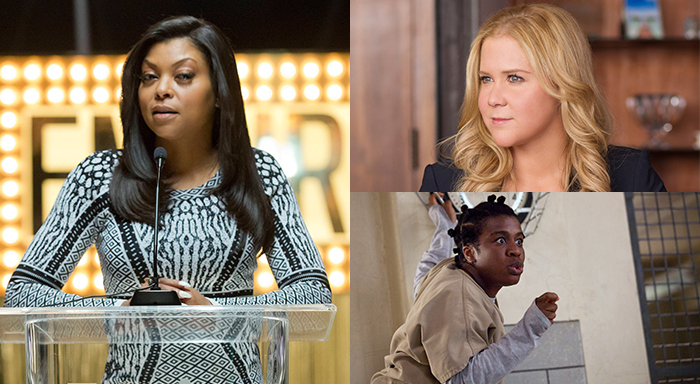 Whether fighting for more female directors, pushing to close gender-based pay gaps or challenging ridiculous stereotypes about female characters, the year 2015 found Hollywood's leading ladies making waves like never before. Here are just 10 showbiz heroines whose careers are currently rocketing into the stratosphere.
1. Amy Schumer
In tweets, ballsy comedy sketches and 2015′s most honest rom-com, Schumer uses her laser-like powers of observation to address sexism and dating woes alike. Take one look at her movie Trainwreck and it's easy to see why she's earning so many props right now as both a writer and an actress.
2. Ava DuVernay
After winning the Sundance Film Festival's Directing Award for Middle of Nowhere, DuVernay went on to helm the historical drama Selma, which garnered rave reviews and an Oscar nomination for Best Picture. Ad Age smartly named her one of the Most Creative People of 2015. Did we also mention that she's been made into a Barbie doll (complete with director's chair)? It sold out in minutes.
3. Issa Rae
Her humorous online series, The Misadventures of Awkward Black Girl, tackles everything from interracial dating to culturally insensitive bosses. She's since released her first book, The Misadventures of Awkward Black Girl, a hilarious, page-turning collection of autobiographical essays. With a TV show and her scripted dramatic podcast Fruit both debuting soon, Rae's star is destined to grow even brighter.
4. Jennifer Lawrence
J-Law's brilliant and courageous portrayal of Katniss Everdeen in the Hunger Games franchise doesn't even scratch the surface of her super-impressive resume. She earned an Oscar in 2013 for playing quirky widow Tiffany in David O. Russell's rom-com Silver Linings Playbook and an Oscar nomination the year after as the complex Rosalyn Rosenfeld in his American Hustle. Meanwhile, the unabashed goofiness she displays to the media should serve her well when she stars alongside Amy Schumer in an upcoming comedy they co-wrote. Can't wait!
5. Julianna Margulies
We all know she's one of the small screen's classiest leading ladies, but did you know that Margulies recently found time to write a children's book? Three Magic Balloons, which will be released later this year, is based on a story that Margulies' father wrote for her and her sisters when they were young. How sweet is that?
6. Melissa McCarthy
There are a lot of reasons to love Melissa McCarthy, who has become nothing less than a Hollywood gem ever since her Oscar-nominated turn in the laugh-fest Bridesmaids. She even showed off her stylish side last year, launching her own clothing line that caters to women of all shapes and sizes. You go, McCarthy!
7. Shonda Rhimes
Shonda Rhimes has created, written and produced so many TV shows (not coincidentally, all with strong female protagonists) that she recently picked up an honorary award from the Writers Guild of America. Lucky for Shonda fans, her new book Year of Yes: How to Dance It Out, Stand in the Sun and Be Your Own Person can teach all of us how to be as multitalented.
8. Taraji P. Henson
Her bold portrayal of mother and hip-hop mogul Cookie on Empire has earned her an Emmy nomination and a rabid fan following. She even owned the screen in 2015 with a hit TV spot for Apple Music co-starring Kerry Washington and Mary J. Blige (helmed by another woman on this list, Ava DuVernay).
9. Uzo Aduba
As Suzanne "Crazy Eyes" Warren on Orange Is the New Black, Aduba has already snagged two Emmys in a row. Recently, fans got to know her as a singer as well; in 2015, Aduba showcased her beautiful voice on NBC's live musical production of The Wiz. She also has a part in the incoming dramedy Tallulah, which will premiere at the 2016 Sundance Film Festival.
10. Viola Davis
Viola Davis won us over with her remarkable performance as Aibileen Clark in The Help. Since then, she's made history as the first black woman to win an Emmy for Best Actress in a Drama, using the moment to deliver an empowering speech on the importance of representation and diversity in Hollywood.
Check out Amy Schumer on a recent episode of CLOSE UP WITH THE HOLLYWOOD REPORTER.