"CLOSE UP WITH THE HOLLYWOOD REPORTER" Recap: Drama Actresses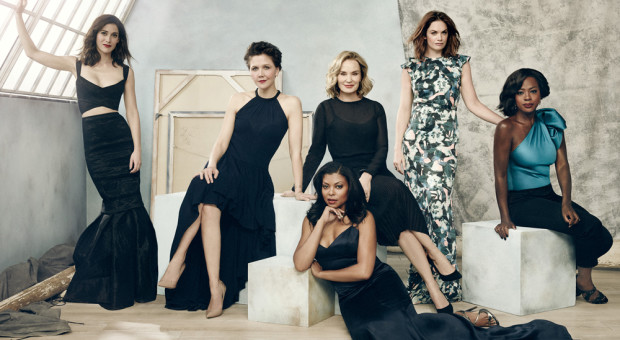 Photographer: Miller Mobley
CLOSE UP WITH THE HOLLYWOOD REPORTER kicks off with a dynamic group of actresses making some of the biggest splashes in television—despite the fact that all are best known for roles outside of TV.
"So what scared you [about working in TV]?" begins Stacey Wilson, our host and Awards Editor at The Hollywood Reporter.
Lizzy Caplan (Masters of Sex) answers first, citing how she felt out of her element in a dramatic role—she's best known for her work in indie film comedy—and being nervous about whether audiences would take her seriously over so many episodes. She isn't the only one hesitant about taking on a difficult character. Taraji Henson (Empire) talks about being skeptical in her first moments reading the script for the bombastic character "Cookie" that won her a Lead Actress Emmy nomination in this year's competition, but she explains, "If it doesn't shake me up, then why am I doing it?"
And that's the point of art, she concludes, "to force people to have conversations they're afraid to have."
Then there's Maggie Gyllenhaal (THE HONORABLE WOMAN), who admits that the scope was the most intimidating—everyone is relying on her honest portrayal over 8 hours. "It's unlike anything I've ever done."
That kind "chaos of not knowing where it's going" in a story of potentially infinite scale is what drew Jessica Lange (American Horror Story), a three-time Emmy award winner, celebrates about television. "[It] forces you to live within the imagination."
But what about "show tits" and being naked on prime time, Wilson asks. Is that nerve-wracking? Turns out: It is and it isn't.
"I'm not 100% comfortable with on camera nudity," Caplan says of her work, which, on Masters of Sex, requires quite a bit, "but I'm as close as I'm going to get."
Whether in film or TV or theater, "a sex scene has to have a point," says Ruth Wilson (The Affair). And if it does, then it's no different than any other scene. According to Henson, nudity on camera is all about dealing with your own body. Once you achieve that deep understanding, you can do any scene.
Naked or clothed, the lure of acting comes back to the seduction of playing someone other than yourself. "I've spent my whole life pretending," says Lange.
"I have no other skills!" Caplan chimes in.
The trick is getting cast in the right roles and avoiding falling into the typecasting. Most of the actresses agree it's the most frustrating thing when producers and directors peg you for a certain type of actor and that it's most rewarding when a director can see beyond the work you have done and into the potential you have for another role, altogether different. That can be the advantage of shifting between film, TV and theater, Ruth Wilson says; it helps actors to perform work that puts them outside their comfort roles.
"I love getting cast against type," says Gyllenhaal, who admits that her unconventional look (by Hollywood standards) has helped her avoid the pitfalls of typecasting throughout her career.
"I want to feel like my past counts for something," says Davis. "I want my work to reflect my gifts and talent, not my color, sex and age."
"I want to play a white woman!" says Henson.
Then Gyllenhaal adds, "I want to be in a Tarantino film, or a David Lynch or an Almodovar. And I'll play whatever they want."
While many of our panelists' dreams remain in roles on the silver screen, for these venerable talents, working in TV is not a source of anxiety or hesitation. Television, after all, is a new site of endless creativity—as well as the home of some of culture's most beloved lowbrow entertainment. In our final moments with the group, we learn that Taraji Henson and Lizzy Caplan can't get enough of The Real Housewives, that Ruth Wilson loves British dancing competitions, and we watch as Viola Davis breaks down the premise of Snapped, a show that follows strong women on the verge: a powerful metaphor, indeed.
View photos from the Drama Actresses episode featuring Maggie Gyllenhaal, Viola Davis, Taraji P. Henson, Lizzy Caplan, Jessica Lange and Ruth Wilson.

Get quotes from the CLOSE UP WITH THE HOLLYWOOD REPORTER: Drama Actresses cast.
Test your fandom. Take the Drama Actresses Quiz.