6 Questions With "Better Call Saul" Star Bob Odenkirk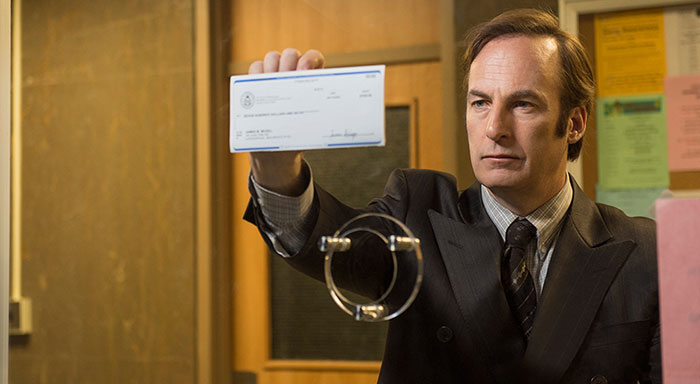 Breaking Bad and Better Call Saul star Bob Odenkirk talks about what's different about his latest Emmy nomination, his collaborations with David Cross and which actor surprised him at the CLOSE UP WITH THE HOLLYWOOD REPORTER roundtable. Want even more of Odenkirk?
Q: What is the Emmy-season hoopla like as an actor nominee for Better Call Saul compared to your past writing nominations for Saturday Night Live, Mr. Show and The Ben Stiller Show?
A: You get a lot more congratulations from people outside your inner circle. It's a much higher-profile thing. When you're in a writing team, you're a group of between seven and twenty-three people and the nomination is for that group effort. And obviously this is shared as well. I'll tell you what, when I think of anything good I did as an actor on this show, it's always going to be a scene opposite Michael McKean or Jonathan Banks, and those guys raise your game, just like [Bryan] Cranston and Aaron [Paul] did in Breaking Bad. They make you better because there's a little bit of a brinksmanship with actors like that—where you each keep pushing the other one.
Q: Given your background in comedy, how much ad libbing do you do as Saul?
A: I don't do any. Not only do I not do any ad libbing, I try to do the words exactly as they are written, in the exact order they are written. I probably get close to a 92% mark on that, but my goal is to say them in the exact order exactly the way the are written without adding or subtracting anything.
Q: Why did you decide on that approach?
A: It's something that started with Breaking Bad, because I come from comedy and there is a lot of improvisation. I very quickly thought, "What if the challenge here is, what if the way to create a character who isn't me is to say these words exactly the way they're written—even if it isn't the way I would say them?" It's a very well-written show… when a sentence is phrased a certain way, it's done for a reason. There can be real discovery in the kind of effort it can take to find your way to the phrasing as it is in the script. It can be hard to do. It can be weird. It can not fit in your mouth. But finding your way to it, you can discover pauses and inflections, and even meaning, that you wouldn't have thought of.
Q: Speaking of acting challenges, Better Call Saul has been described as a truly genre-less show. How does that affect how you decide how to play a particular scene?
A: I think it would be more freeing because we're not trying to mimic anything that's been established by other shows. We're discovering each moment. I would think the writers feel this way too. They are discovering this story as they're writing it. Honestly, I think it'll be a sad day if they ever feel like, "Oh, the show is complete now and here's the formula or here's what would happen here in a typical Better Call Saul episode." …I don't think we'll ever get there, and I can't believe we've got an audience as big as we do, and a bunch a critics, as many as we have, who are willing to tolerate this exploration, this jazz explosion.
Q: You're working again with David Cross a new sketch comedy series, With Bob and David, would you say your joint sense of humor has evolved since Mr. Show?
A: I wish I could say it evolved more, but it did not evolve that much, as it turns out. I think David and I were both thinking we would do a show that was kind of fundamentally more different from Mr. Show than the one we churned out. In the end, we're very happy with the show. We laughed our asses off. With this show, we don't get as far lost in concepts and ideas as we did doing that old show, and that's what we wanted. We wanted a somewhat more accessible, funner, easier-going show. As much as we're proud of Mr. Show, it's a little bit, um, too in love with itself.
Q: On CLOSE UP WITH THE HOLLYWOOD REPORTER, what was most surprising to you about the discussion that day and who were you most excited to meet at the roundtable?
A: Well, I was at a party and Clive Owen was standing next to me about eight years ago. And he was really lost in thought. He seemed like a really cold and distant Brit. And he was incredibly friendly and humble and incredibly likable in the roundtable. I really enjoyed hearing from Clive Owen and hearing about The Knick, which sounds amazing. And of course I've always liked Jon Voight. He's the best. I love hanging out with him. And Justin Theroux is a delight, too. It was a great time with a great bunch of actors who I really respect and who are really nice guys.