Cleverman Recap: Episode 205 (Skin)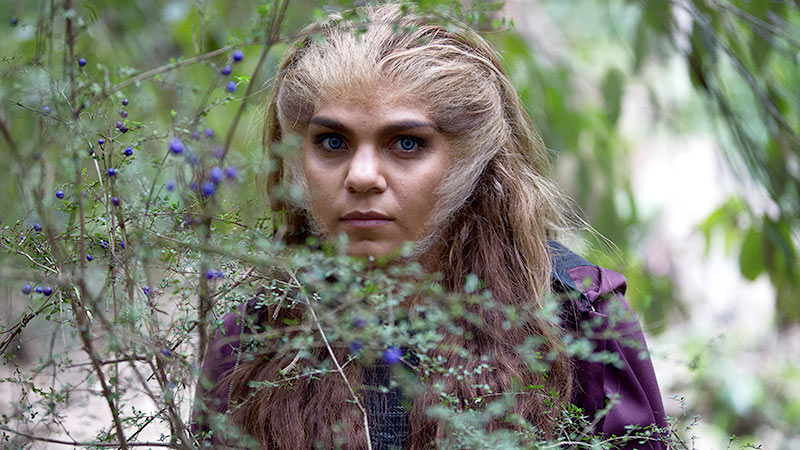 Koen saves an Inclusion Initiative Hairy from bullies on the street.
Dolan drops Nerida off at Waruu's house. Nerida accuses Waruu of abandoning her and Alinta at the Zone and insists he release Alinta to her. Waruu shuts the door in her face and calls the Containment Authority to report her as a Hairy sympathizer.
Araluen quietly leaves Boondee's apartment while Boondee sleeps.
Dolan responds to a dispatch request for an officer at Waruu's house. He convinces Nerida to get in his van.
McIntyre goes to Boondee's apartment and orders Boondee to take him to the Bindawu tribe to retrieve Charlotte.
Koen confronts Waruu and orders him to shut down the Inclusion Initiative. Waruu ignores Koen and drives off.
Alinta snoops around Waruu's house and discovers Jimmy's book of drawings, which includes a story titled "The Sun and the Moon." In a flashback, she tells Waruu the story, in which a grandfather decides to pass on his knowledge to the sun, making the moon jealous.
Latani hides in the mountains.
Charlotte chats with a Bindawu woman, who says Charlotte and her child will learn their language.
In the lab, Dr. Mitchell informs Slade that his attempts to reverse the sap's cellular decay have failed. Slade orders him to keep searching for a solution.
Frith asks Slade to run a DNA test on a strand of hair, which unbeknownst to him belongs to Waruu.
Dolan brings Nerida back to his house.
Waruu complains to Frith about excluding him from a recent press release. Frith condemns Waruu for being ineffective and failing to produce information about the thing with the blue light.
Slade informs Waruu that he and Dr. Mitchell successfully liquefied the sap. They drip the sap onto Koen's seemingly indestructible nulla nulla and succeed in cutting straight through it. Slade tells Waruu that if they control Koen, they will control the gateway between here and the Dreaming. Slade further declares that his Hairy biotechnology will help the human race survive on a dying planet.
Frith tells Lucia that she mistrusts Waruu and demands to see the Inclusion Clinic with her own eyes.
Audie offers to help Koen take down the Inclusion Initiative. Koen agrees to let her drive him to the city.
Boondee leads McIntyre through the mountains. Boondee whistles a Bindawu call, alerting Latani and Jarli, who are both nearby. Jarli kills McIntyre with a spear. Latani reunites with Boondee.
Sarah, an activist and Frith's former college classmate, confronts Frith in front of the Inclusion Clinic and accuses her of castrating the Hairies and abandoning her idealistic roots.
At the clinic, Frith watches Robert administer the inclusion serum to Hairies. To Frith's surprise, Robert describes the Hairies in nothing but positive terms.
Darana admonishes Jarli for killing McIntyre. Charlotte warns the tribe that Slade might send an army to find her. She insists they release her so that she can convince Slade to back off.
Araluen goes to the Inclusion Clinic and begins the inclusion process.
Koen sneaks into the clinic and destroys supplies in one of the clinic rooms. He spots Araluen and urges her to stop the conversion. Araluen insists it's the only way she can search for Latani without fear. An alarm goes off, prompting Hairies to evacuate. Koen fights CA officers and flees the building with Audie's help.
Dr. Mitchell tells Slade that the DNA results for the hair sample are subhuman. Slade traces the DNA to Waruu then calls Waruu to confront him about taking the Hairy serum. Unfazed, Waruu blames Slade for withholding the sap and preventing him from reining Koen in.
Slade tells Frith that the DNA for the hair sample registered as human.
At a tribe meeting, Jarli argues against sending Boondee back to the humans and declares that change is upon the tribe.
CA officers discover the Hairy hideout and massacre everyone inside.
Jarli shows Charlotte how to get back to the city.
Darana banishes Jarli from the tribe for disobedience. Jarli vows to take their land back from the humans once his generation becomes the new leaders.
Dolan informs Nerida that he's looking into an explanation for why Latani was never processed by the CA.
Koen and Audie spend the night under a bridge. Koen has a premonition of Audie returning a ring to him. They make love.
Charlotte finds Slade in his lab and begs him to stop his research. She tries to flee once she realizes that Slade plans to extract the fetus. When Slade restrains her, she stabs him in the neck with a scalpel. Waruu finds Charlotte next to Slade's dead body.
Stream full episodes of Cleverman Season 2 on sundance.tv.
View photos from Cleverman Episode 205.
Sign up for the Cleverman newsletter to be among the first to receive full episodes, behind the scenes videos and more.