Cleverman Recap: Episode 203 (Dark Clouds)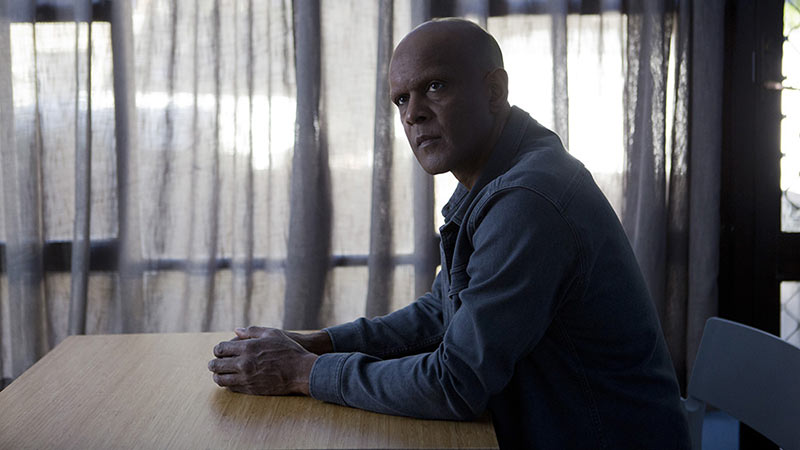 Yani quietly leaves the Hairy hideout and gives herself up to Containment Authority officers in the city.
Charlotte wakes up in a hospital bed and tells Deepak, her colleague, that she doesn't feel safe going home.
Dr. Mitchell informs Slade that they are ready for the fetal extraction. He shows Slade a crib designed to mimic a subhuman womb.
Jimmy trains Koen in the woods and informs him that his piercing headaches occur when the past reaches out to him.
Yani sits in a chair at the Inclusion Initiative clinic. A tube drains her Hairy essence while another tube injects the inclusion serum. While speaking to Waruu and a film crew, she fondly recalls a childhood image of a human girl wearing a white dress with a blue ribbon.
Jarli shows the city skyline to two Bindawu children and also shows them humans hiking in the woods. Darana scolds Jarli for introducing the kids to humans but Jarli argues that they should know.
An Aboriginal warrior wakes up Koen with a nulla nulla and fights him in a dream world. In the real world, he disappears. Back in the dream world, the warrior again spars with Koen.
Linda jumps to Audie's defense when Harry grabs water from Audie's hand. Audie privately tells Linda that she witnessed Koen's special power and asks if Linda has the same power. Linda doesn't answer.
Dolan tells Nerida that very few people have actually met Hairies but that many would be sympathetic to the Hairy plight.
Slade carves out a chunk of Koen's nulla nulla and examines it in a petri dish. The nulla nulla repairs itself.
A smooth-skinned Yani poses for photos in a white dress that Waruu sent her. The photographer calls her by her new name, Gwen.
Boondee is ordered around by his colleagues as he performs menial labor at work. A news crew tries to interview him when he arrives at Bennelong House, the building where he lives. He eats alone in his apartment.
Dolan drinks wine with Nerida and explains that he used to be a police officer but was forced to become a security guard when the government introduced new security measures.
Araluen cries when she sees Boondee at Bennelong House in a TV news report.
Nerida and Dolan kiss while stargazing. Alinta sees them.
During a training session, Jimmy tells Koen that anyone caught by his blue blast loses their "essence" and can no longer enter the afterlife upon death.
Jarli runs through the city in broad daylight.
Araluen vows to go see Boondee. Audie offers to sneak her into the city.
Frith commends Waruu on the large Hairy turnout for the inclusion serum. She shows him footage of Koen attacking Mungo's assailants with his blue blast and asks him to figure out what Koen is.
Waruu goes through Jimmy's belongings and reads of a special tree with powerful blood. Meanwhile, Koen builds a new nulla nulla using wood carved from an ancient tree.
Audie drives Araluen to Bennelong House. Araluen sneaks into Boondee's apartment.
McIntyre shows Hendricks footage of Koen attacking him in the parking lot. Hendricks explains that he saw Koen with a woman and subhuman.
Alinta confronts Nerida about sleeping with Dolan and reminds her that Dolan is a complete stranger. Alinta finds CA employment documents in Dolan's room, convincing Nerida to flee.
Jimmy tells Koen that Clevermen hear voices in their heads.
Using his new nulla nulla, Koen again faces off with the Aboriginal warrior and this time prevails.
Waruu collects sap from an old tree.
Boondee reunites with Araluen in his apartment and cries upon learning of Djukara's death.
Deepak encourages Charlotte to talk about Slade but Charlotte says she can't discuss it.
Jimmy finishes his training with Koen and disappears into thin air.
Jarli follows Slade to his house. Inside, Charlotte confronts Slade about her subhuman DNA and screams at him for experimenting on her. Slade insists their child will be healthy and that she will be safe. She orders him to show her everything at his lab.
Slade and Charlotte go to their car. Jarli attacks Slade and drags Charlotte out of the car. She begs him to spare her life and says that her unborn child is a Hairy.
Koen hears a ringing sound as he walks down a road and realizes the past is reaching out to him. He releases the blue light, causing the vision of a car crash to appear in front of him. A young Linda sits dazed in the driver's seat of one car. In the other car are his dead parents.
Koen confronts Waruu at home and asks if he knew that Linda killed his parents. Waruu explains that Linda ran his parents' car off the road after learning that her husband was sleeping with Koen's mother.
Koen confronts Waruu about his own affair. Waruu slits Koen's throat then rubs a lump of sap on it.
Stream full episodes of Cleverman Season 2 on sundance.tv.
View photos from Cleverman Episode 203.
Sign up for the Cleverman newsletter to be among the first to receive full episodes, behind the scenes videos and more.