Cleverman Recap: Episode 202 (Bindawu)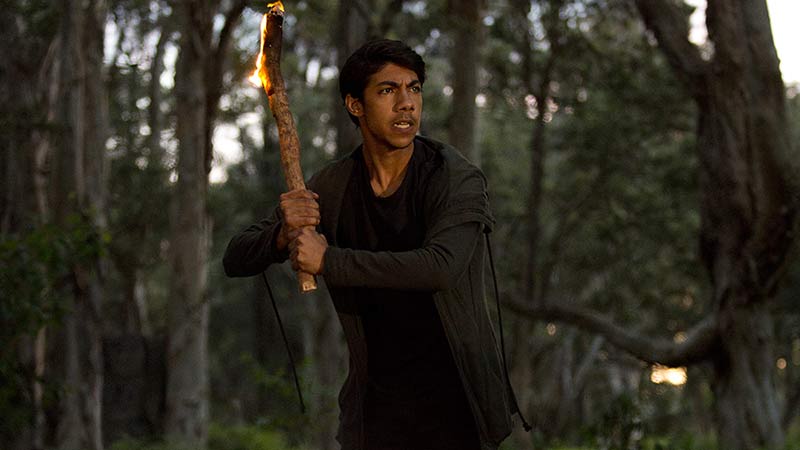 Jarli rummages for junk in the city streets. He uses a mystical language to silence a barking dog.
Aunty Linda cleans Mungo's dead body at the bar.
Darana, an elder Hairy, forbids Jarli from leaving their boundaries in the forest.
Waruu tells Frith about the Hairy serum and explains that it destroys a Hairy's speed, strength and hair within hours, priming Hairies for assimilation into human society. He proposes an "Inclusion Initiative" that would allow Hairies and humans to live peacefully side by side.
Dolan, who is a CA officer, warns Nerida that he will raise suspicions if he misses another day of work.
Charlotte tells Slade that she's considering going into work. Slade urges her to stay home and rest.
Harry finds Araluen roaming the streets.
Waruu informs Slade that Frith agreed to the Inclusion Initiative and will send all extracted waste products to Slade for destruction.
Slade tracks down Koen via the CA security camera feed and orders McIntyre to capture Koen.
At the hideout, Harry informs Araluen that Latani is alive but that Djukara died in the convoy attack. Araluen wails and vows to seek vengeance.
Jarli retreats to a private hideout that he has filled with human bric-a-brac. He rigs up a TV and watches a news report about his convoy attack.
Koen and Aunty Linda bring Mungo's body back to the Hairy hideout. Araluen attacks Koen and scratches him, prompting Koen to have a precognition of her. Koen's gashes heal before everyone's eyes.
In his lab, Slade drops some of Koen's blood onto the nulla nulla, causing the surface to pulsate. Slade and his lab technician, Everick, realize that the blood is alive.
Dolan promises Nerida and Latani that he will not bring anyone with him when he returns home. He carpools to work with his colleague, Hendricks — who is also one of Mungo's attackers.
Charlotte goes to work and submits blood samples for testing.
Waruu shaves off his body hair at home.
Dolan and Hendricks perform random street checks of civilian DNA.
Frith and Lucia show Waruu to his new office. Waruu fakes his way through a required DNA test by scanning blood that he collects from a colleague after "accidentally" slamming a door into his nose.
Aunty Linda counsels Koen to exercise restraint with his power.
Slade and Everick inject cancer into Koen's blood sample, but the blood cells destroy the cancer. Slade suggests they try smallpox.
Harry secretly trains Koen to control his powers.
After gaining access to the human ID data bank, Waruu immediately searches for Nerida and Alinta and is alarmed to find no record of them. To his relief, he learns from Lucia that a person's record would remain in the database even if the person is deceased.
Waruu decorates his house and throws out Uncle Jimmy's belongings. He notices a falcon perched outside the house.
Harry discovers a young woman spying on his training session with Koen. He worries that she witnessed too much but Koen urges Harry to leave her alone.
Charlotte learns that her blood tests revealed possible traces of subhuman DNA. She ignores a phone call from Slade.
After Koen's blood destroys smallpox, tuberculosis and malaria, Slade tells Everick to try ebola.
Slade confronts Charlotte at a cafe after tracking her down via her phone. He orders her to go home but Charlotte refuses.
Back at the lab, Everick tells Slade that Koen's blood destroyed the ebola.
Dolan returns home all by himself, just as he promised Nerida.
Everick places a drop of an extremely virulent disease onto Koen's blood. Koen's blood attacks the virus. Before she can add another drop, the virus compromises her hazmat suit and kills her in front of Slade's eyes.
Koen spots a falcon at the hideout and follows it outside.
Nerida agrees not to tie Dolan up after he gives her his gun as a show of good faith.
Koen follows the falcon all the way to a trailer in the forest. He tries the trailer door but it's locked.
At the hospital, Charlotte checks her DNA with a scanner. "Subhuman," it reads.
As Charlotte reels from the discovery, she finds her colleagues gathered around a TV, watching Frith, Slade and Waruu announce the Inclusion Initiative. Slade presents a photo of Boondee then brings out a post-treatment Boondee, who is hairless and human-looking. Slade asks for his name. "They call me Trevor," says Boondee. Charlotte faints.
Jarli tearfully watches the announcement from his cave and screams. A horrified Nerida watches the announcement from Dolan's home as Frith invites Hairies to volunteer for the Inclusion Initiative.
Koen sits at a campfire. Suddenly the trailer lights turn on and the door opens: It's Uncle Jimmy.
Stream full episodes of Cleverman Season 2 on sundance.tv.
View photos from Cleverman Episode 202.
Sign up for the Cleverman newsletter to be among the first to receive full episodes, behind the scenes videos and more.