"CLEVERMAN" Recap: Episode 103 (A Free Ranger)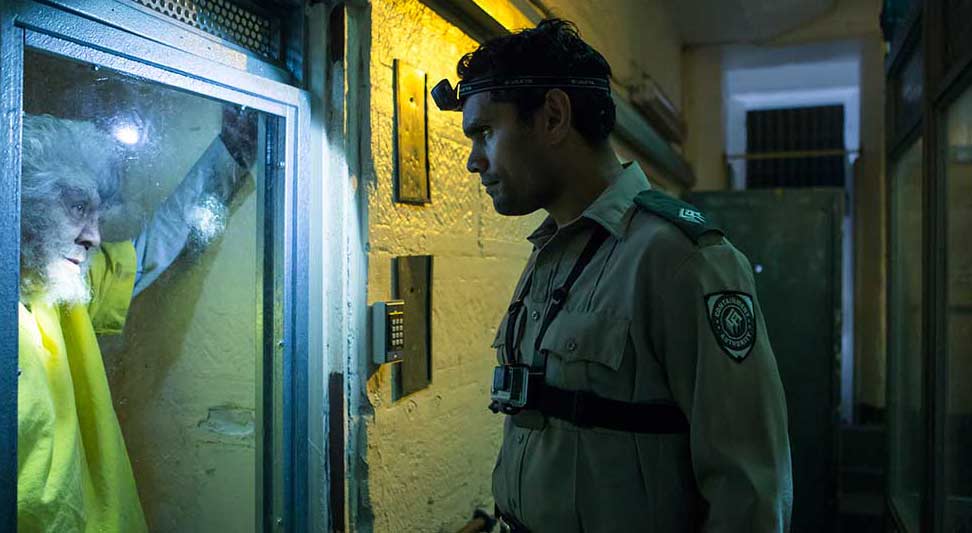 A traumatized Waruu (Rob Collins) reviews footage from his and Harry's (Isaac Drandic) prison break-in on his wearable camera while soaking himself in a bath. Waruu refuses to let Nerida (Jada Alberts) in to talk to him.
Flashing back, Waruu and Harry collect footage of the prisoners' conditions disguised as guards, as planned. When Djukara (Tysan Towney) spots them, however, he begs Harry to free him and Harry can't resist. When Djukara tries to free his father as well, a guard notices, sounds an alarm and shoots Djukara.
Back in the present, high-level Containment Authority chief Stephen McIntyre (Mansoor Noor) investigates the scene of the breakout. Alone with the dead body of the guard who shot Djukara, McIntyre starts digging into the man's chest with a Bowie knife.
Flashing back to just after their still-unseen escape from the prison, Waruu and Harry smuggle a wounded Djukara and a couple other freed prisoners into the Zone. Charlotte (Frances O'Connor) gives Djukara an emergency blood transfusion from Harry.
Minister Matthews (Andrew McFarlane) makes it to the prison to find the dead guard's heart ripped out much like Jimmy's and the soccer-playing boy's were and a pro-Hairy symbol painted on the wall in his blood. Matthews curses the Hairies as "animals".
Koen (Hunter Page-Lochard) begs the spirit-girl to tell him what she wants from him, but she remains silent. When Koen touches her he's knocked back by a rapid series of mysterious, overwhelming visions.
A semi-disguised Latani (Rarriwuy Hick) sees Djukara among the prisoners on a public monitor as the news breaks, and is forced to flee when CA officers spots her. Matthews and McIntyre watch the chase on the officers body-cams til Latani out-runs them and escapes.
After playing dead for a moment to freak out his friends, Koen gets up, laughing. Blair (Ryan Corr) is amused, but Ash (Stef Dawson) is furious and grabs Koen to tell him off. When Koen and Ash make contact, Koen sees a vision of Ash dead. Blair asks if something is wrong, but Koen says no.
Latani shows up at a salon, desperate to disguise herself better as her hair and nails rapidly grow out. The beauticians recognize her as a hairy, panic, and knock her unconscious.
Rumors about the prison raid swirl around Waruu and Nerida in the Zone. Waruu bribes an uncle into helping to harbor the fugitives in a non-Hairy-affiliated part of the zone. Uncle Max (Trevor Jamieson) gives the fugitives new clothes and haircuts and helps them disguise their body hair with a special spray.
The beauticians decide to keep Latani prisoner and sell her Hairy hair, which has special properties, for immense profits. They tie her to a chair and start an online auction.
Frankie (Rhondda Findleton) pays Araluen (Tasma Walton) a visit in the locked bedroom where she is being kept, finding her prisoner in a state of barely responsive depression. Frankie shocks Araluen with a cattle prod to get her attention and orders Araluen to eat and keep herself healthy.
McIntyre phones Jarrod Slade (Iain Glen), revealing himself to be in Slade's pocket, and asking if he wants him to collect Koen from his bar for him. Slade tells McIntyre to hold off while he makes a trip to the Zone.
Slade arrives at the clinic to find Charlotte struggling to keep Djukara alive as Harry's blood type doesn't seem to be a match and no one really knows anything about Hairy biology in general. Slade suggests finding a member of Djukara's clan to donate blood.
CA officers burst into the salon and demand Latani. The beauticians point them to the back room, but the officers find Latani has sawed through her ties with her claws and escaped.
After Charlotte transfuses blood from a member of his own clan, Djukara's condition stabilizes. When Djukara wakes, Waruu warns him to keep quiet about the raid.
Waruu confronts Slade, demanding to know how Slade knew how to save Djukara. Slade admits that he and Jimmy performed experiments combining Slade's cutting-edge technology with Jimmy's ancient secret knowledge.
Meanwhile, Ash confronts Koen about his newfound powers. He tells her the universe has accidentally granted him the title of his tribe's Cleverman from Jimmy. Koen touches Ash again and describes the grisly visions he sees.
Frankie shows Minister Matthews video feed of Araluen, ready to serve as his personal sex slave. Matthews practically drools over Araluen, revealing his secret attraction to Hairies.
Charlotte asks Slade if he's really okay with her decision not to continue to pursue conception further if the latest effort doesn't work out. He promises her he is.
Slade visits Koen's bar and proposes they strike up a similar partnership to the one Slade shared with Jimmy. Koen brushes Slade off.
Latani reaches the Zone and Alinta (Tamala Shelton) leads her to the fugitives' hide-out. Latani reunites with Djukara, but blames him for Jirra's death.
Returning to the opening flash-forward, Waruu locks himself in the bathroom and runs a bath. The footage from his body-camera reveals Waruu personally beating the slain guard to death.