4 Questions with "CLEVERMAN" Star Rob Collins (Waruu)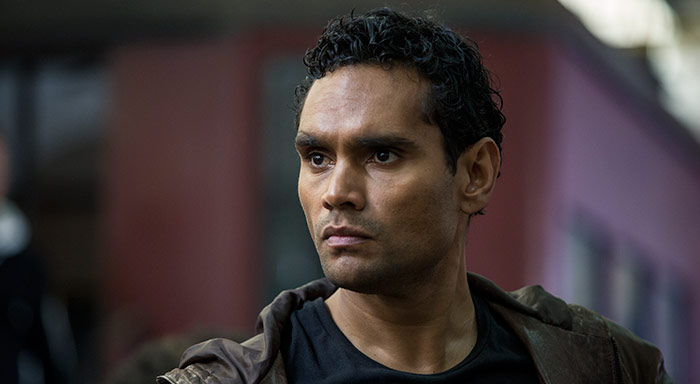 The CLEVERMAN star and "proud Tiwi Islander", Rob Collins (Waruu West), discusses how his indigenous background influenced his role and what superpower he wishes to possess. Read on for more:
Q: Waruu's idealism is mixed with a resentful nature. Which side of the personality was easier to portray?
A: The common thread through Waruu's idealism and bitterness is his anger, which I find accessible as an actor because it's such a visceral feeling. Waruu feels anger at the injustice faced by his people, anger at being denied his place in society, anger at his fractured childhood, and ultimately, anger at being overlooked as the next Cleverman. But rather than be defeated by this anger, this feeling of being marginalized only adds fuel to the fire of his will, and he simply will not be denied, which is interesting because there is a certain point that it stops being a force for good and ultimately becomes his undoing.
I'm also the eldest of three siblings, so I'm as comfortable being on a soapbox as I am being cranky!
Q: Would you say you're a natural leader in reality?
A: I'm a proud Tiwi Islander, and a wonderful part of our culture is the idea of communal responsibility, which encourages everyone to step forward from time to time but also know when to follow. I balk a little at the idea of saying 'I'm a leader', but in reality these cultural responsibilities are deeply rooted in me, and I'm blessed to have a close group of family and friends that have supported and encouraged me in whatever I've done, so whatever qualities I have that set an example to others I completely owe to them.
Q: How did your Tiwi background affect your approach to playing Waruu
A: It was fundamental. I really had to make Waruu's plight my own, so whenever Waruu speaks of 'his people' I was thinking of my people. I found myself asking the question constantly "what if this were my brother/sister/cousin/Uncle/Aunty?" Approaching Waruu with this sensibility, there was little that needed to be imagined. Sadly, I've helped to bury too many of my family that have died far too young. My personal yearning for a better life for my people fuels Waruu's quest for a better life for his.
Q: Waruu wants to be more than an ordinary man. If you could have one superpower in real life, what would you pick?
A: To be able to fly to at least 30,000ft – obviously not as high as a commercial jet… that would be dangerous.
Watch the CLEVERMAN Series Premiere online now (no login required) before the next episode airs. The series continues Wednesday 10/9c only on SundanceTV.
… And because we know you can't wait, here's a look at what's to come: