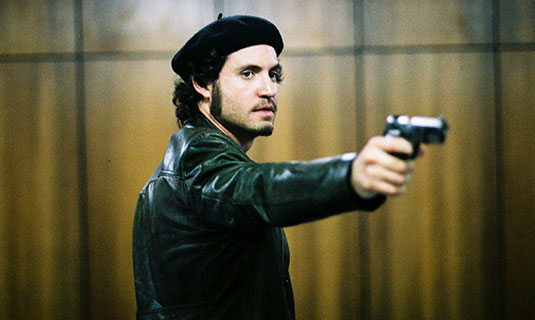 Entertainment Weekly - Kent Tucker
"CARLOS was as unnerving as any thriller on the small or big screen this year, and unafraid to show both the glamor and the horror of self-styled revolutionary action."
Read More
IndieWire.com - Anne Thompson
"Utterly immersive and engrossing, the movie grabbed me with Ramirez's compelling, abrasive, alluring, horrifying character, who moves from political idealism to complete mercenary over the years, manipulated and financed by top players in several countries."
Read More
Film Comment - Kent Jones
"'Reality is always magic,' Renoir once said, and Assayas embodies that dictum more fully than any other modern director."
Learn More
The Wall Street Journal - Joe Morgenstern
...nothing I've encountered on any size screen matches the lucidity of this fact-based fiction—it amounts to a textbook on state-sponsored terrorism—and nothing I've seen in recent years has held my attention so relentlessly. Not a single squirm in those first four hours—the last section is a bit of a letdown—or a single sag in the action: CARLOS also stood as a textbook case of the total immersion that one can enjoy only in a theatrical setting.
Read Review
New York Post - Linda Stasi
Almost more impressive than the series itself, though, is Edgar Ramírez, the man who stars as Carlos. He will leave you more than breathless. For one thing, he's heart-attack handsome. But try to forget his looks and concentrate on his intensity. OK, never mind. It's impossible to forget his looks.
Read Review
ArtForum.com — Melissa Anderson
A maximalist, globe-trotting look at the Venezuelan-born Ilich Ramirez Sanchez...rightfully received a standing ovation yesterday after its sole, Out of Competition screening in the Lumière... the Carlos of Assayas's film mixes libidinal kicks with his far-left ilitancy... Several different languages are spoken in Carlos—often by the priapic insurrectionist himself—adding to the film's epic sweep.
Read Review
ChicagoSunTimes.com — Barbara Scharres
This is some of Assayas' best work in years: provocative, tightly scripted despite its length, and somber yet exciting. Venezuelan actor Edgar Ramirez is marvelously cast as Carlos, bringing a contemptuous charisma to the role...the film had me completely in its grip.
Read Review
HollywoodElsewhere.com — Jeffrey Wells
A fascinating, never-boring, you-are-there masterwork...exquisitely done in so many small and great and side-pocket ways... This is a politically crackling, intrigue-filled saga with a no-bullshit, this-is-what-it-was, rock-solid authority in every line and scene and performance — no Hollywood crap of any kind, no comic relief and nothing artificially heightened.
Read Review
HouseNextDoor.com — Matt Noller
An impressive testament to Assayas' range...Carlos has an honest-to-goodness director with an honest-to-goodness artistic sensibility behind it... In terms of sheer, sustained filmmaking force, little else at Cannes comes close.
Read Review
Huffington Post — Michael Giltz
I love how the film shows so much without making a big fuss over it... Some objected to a "TV movie" being at Cannes, but they're foolishly narrow-minded. A compelling story is a compelling story, no matter who funded it or where it will be seen.
Read Review
Los Angeles Times — Steve Zeitchik
How good is Olivier Assayas' CARLOS? Think of THE BOURNE IDENTITY with more substance, or MUNICH with more of a pulse, and you begin to have a sense of what the French filmmaker accomplished with this globetrotting and epic look at one man's rise to the station of international guerrilla leader and terrorist celebrity...offering just enough thrills to keep the film suspenseful without sacrificing character detail, period style and even, perhaps, historical truth.
Read Review
The Onion — Mike D'Angelo
The most thrilling movie I've seen at Cannes this year runs just a little over an hour, telling an explosive real-life story in minute, riveting detail and yet with brutal economy. Sharply written and beautifully directed, and featuring a star-making, coldly charismatic performance by little-known Venezuelan actor Edgar Ramírez, this miniature docudrama achieves a degree of nail-biting tension that the BOURNE series would envy, while also functioning as a pitch-black comedy of errors and a genuinely incisive depiction of the ever-present struggle between idealism and pragmatism.
Read Review
Screen International — Jonathan Romney
Hugely compelling...Intensely cinematic and narratively driven... Assayas and co-writer Dan Franck, using research by Stephen Smith, treat Sanchez's career with journalistic seriousness, rather than adopting genre trappings - although the action scenes, executed with brisk urgency, exude thriller panache...One of the most achieved docu-fiction undertakings in recent cinema.
Read Review
Time Magazine — Richard Corliss
The grandest, most vivacious entry at Cannes. Assayas aims high with his big, bright movie... a fast-paced, knowing trip through two decades of violence on two continents.
Read Review
Time Out NY — Stephen Garrett
A deeply satisfying dramatic portrait...Ambitious, evocative, emotionally vivid and passionately relevant in its sociopolitical concerns.
Read Review
Todd McCarthy's Deep Focus — Todd McCarthy
Dynamic, convincing and revelatory... In what is certainly his best work, French director Olivier Assayas adopts a fleet, ever-propulsive style that creates an extraordinary you-are-there sense of verisimilitude, while Edgar Ramirez inhabits the title role with arrogant charisma of Brando in his prime. It's an astonishing film... Never dull or slack and crammed with so much incident, character and detail you can't possibly soak it all in as it charges past you.
Read Review
USA Today — Anthony Breznican
What's amazing about CARLOS is that is asks nothing of moviegoers but their attention, passes no judgment on Carlos, and allows the aftermaths of his deeds to speak for themselves. And they do. Loudly... It is a miracle that Carlos existed. And a miracle that this Carlos exists."
Read Review
Variety — Justin Chang
Bravura narrative filmmaking on a hugely ambitious scale, CARLOS is a spectacular achievement... Dense in detail, rich in verisimilitude, displaying a focused grip on its material and fully trusting a smart audience to keep up, CARLOS is, at 5 1/2 hours, a marvel of concision, and for all its nonstop globe-trotting and language-switching, its energy rarely flags.
Read Review
Village Voice — Jim Hoberman
From his festival coverage: "CARLOS is gripping stuff... The extended account of the OPEC caper includes the festival's best hour of filmmaking this side of Godard's Film Socialisme and would make a terrific movie in its own right...An outrageous political gangster film."
Read Review
Vogue.com — John Powers
Vivid, exciting, pulsingly cinematic... Assayas achieves a triumph of lucidity, showing us the interconnections between Palestinian militants, German revolutionaries, Middle Eastern governments, and KGB spies—a veritable ballet of wheelings and dealings, plots and counterplots, promises of support and profound betrayals. It's really fun to watch."
Read Review
CARLOS AT CANNES - Learn More