Characters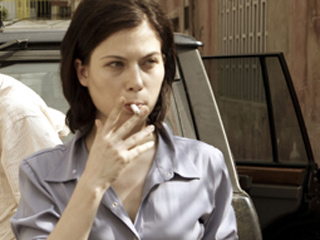 Kopp was born in April 1948 in Neu-Ulm, southern Germany. Having become a photographer, she left the provinces with her first husband and daughter and moved to Frankfurt.

There she worked in the "Red Star" bookshop founded by Wilfried Böse and Johannes Weinrich, where the first Revolutionary Cells where then formed. In 1973, Kopp divorced to be with Weinrich (alias "Steve"). Within the Revolutionary Cells, she acquired a reputation as an accomplished forger of documents. In an account published on 30 June 2003 in the Berlin ewspaper "Der Tagesspiegel", Kopp said she lived undercover with Weinrich and Carlos from 1978. In 1979, she married Carlos. Arrested in 1982 in Paris, while preparing an attack on the offices of newspaper "Al Watan Al Arabi", Kopp was subsequently tried and sentenced to five years' prison.
On her release in May 1985, she joined Carlos inDamascus where the couple settled following the birth of their daughter Elba Rosa in August 1986. They separated when Magdalena left for Venezuela, in 1992, to live in the care of Carlos' family, whilst waiting for him to reestablish his position in the Middle East, compromised since the end of the Cold War. Much later, in a letter that Carlos wrote from La Santé prison in Paris, Kopp learned of the existence of a second wife, a Muslim woman.