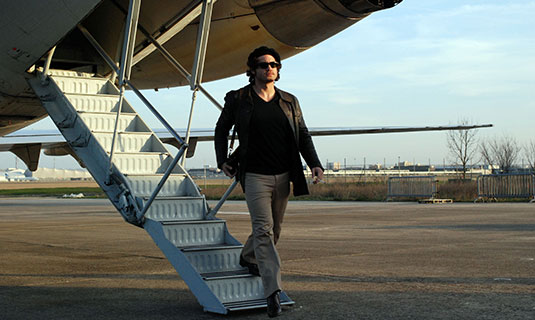 CARLOS stars Édgar Ramírez (The Bourne Ultimatum, Che) in one of the most talked about performances of the year, which garnered two Golden Globe nominations and one SAG Award nomination with Todd McCarthy of IndieWire writing "[Ramírez] inhabits the title role with the arrogant charisma of Brando in his prime." For two decades, Carlos was the most wanted terrorist on earth. Manipulated by Arab secret services, protected by the Eastern bloc, in various disguises and under many pseudonyms, he headed a worldwide organization responsible for spectacular killings, hijackings and bombings.
The critical favorite has already been named runner-up for Best Picture of the Year by the Los Angeles Film Critics Association who also named Édgar Ramírez runner up for best actor and Olivier Assayas as one of the two best directors of the year. CARLOS also garnered two AFI Awards for Best Foreign Film and 'Best Director as well as a New York Film Critics Circle Award for Best Foreign Language Film. In addition, it has dominated critics' Top Ten lists for 2010 including AP, New York Times, The Hollywood Reporter, Time, LA Times, Time Out New York, Time Out Chicago, The Village Voice, Film Comment and The A.V. Club.
---
Who is Carlos the Jackal?
---