Life Lessons From the Talent of "BREAKING BAD"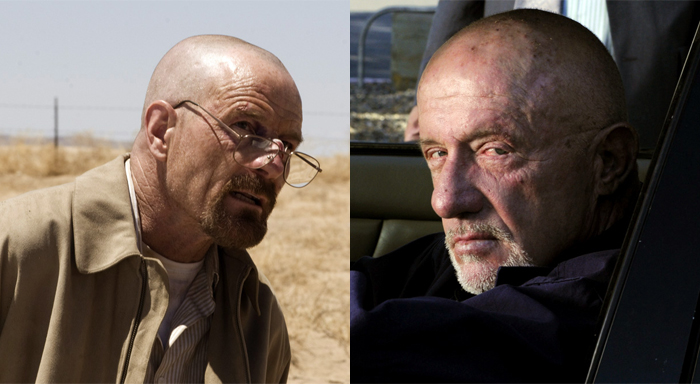 Admittedly, it might seem strange to take life advice from a show created with the specific goal of turning Mr. Chips into Scarface. But there is some wisdom to be gleaned from Vince Gilligan and the cast of this transformative series. Here are some BREAKING BAD-isms to replace the platitudes you've heard too many times before:
1. Even a Broken Clock Is Right Twice a Day
There's a reason a flawed character like Walt gets away with as much as he does, and it's the same reason you should stay positive in 2016. "Even a broken clock is right twice a day," says creator Vince Gilligan, "So every now and then he should win." So, give yourself a break if things aren't going your way. The tide will turn.
2. Bald Men Are More Intimidating
Hair loss, as demonstrated by Walt, can be a good thing. "A man with no facial hair is less intimidating than a man with facial hair," explains actor Bryan Cranston, "and a man who is bald is more intimidating than a man with hair." If respect is what you crave, this could be something to explore. And what better time to try a new look than the new year?
3. You'll Get More With Sugar Than With Salt
Wish you could be as persuasive as drug kingpin Gus Fring? You can. "My mom said something to me years ago that I'll never forgot, and that I still live by," explains Giancarlo Esposito, the actor who plays Gus. "Every time I go, 'Ahhh! I want this to happen. You gotta help me,' I hear my mother's voice saying, 'You get more with sugar than you do with salt.' And I believe it."
4. Embrace the Bounty
Surround yourself with talented people, have them give you good ideas, then pick the best ones. Vince Gilligan admits to using this strategy on BREAKING BAD. He adds, "There's an old expression, 'Don't rob me of any riches,' and that's a philosophy I had." With dozens of awards as proof, that idea definitely paid off.
5. Once a Cheerleader, Always a Cheerleader
Marie Schrader, played by Betsy Brandt, encourages her recovering husband Hank, even when it seems unwelcome. It's a philosophy that Brandt uses in her real-life as well: "I always say to my husband, 'Once a cheerleader, always a cheerleader.' What's the alternative? Throw my hands up and say 'There's nothing we can do! Why me?' It's those moments that make you evaluate what's important and what's not important," she explains. "I have two kids, so I've got to have a mantra to keep going."
6. Be Nice to Babies
Jonathan Banks has played endless tough guys, including Mike — the cleaner on BREAKING BAD. How does he have fun? "How do you not love babies?" asks Banks. "One of my favorite things about planes is, if a baby is crying and someone complains, I love to stand up and go, 'What? You were never a kid? You were never a baby? What's the matter with you?' And I do. I get in their face. I just find it absurd. The poor baby can't control itself." Be like Mike. Practicing forgiveness can be a powerful thing. (It can also prevent Banks from getting in your face at 30,000 feet. 'Cause that's just terrifying.)
7. Honor Real Bacon
Vince Gilligan says, "Flynn definitely loves his bacon, although definitely not vegetarian bacon—which tastes, of course, as we all know, like Band-Aids." And RJ Mitte, who played Flynn agrees: "I don't know what the hell is wrong with that bacon. It really does taste and smell just like Band-Aids, actually. At least the way that Skyler cooked it." Yes, even vegetarianism has its limits.