"BEHIND THE STORY" Recap: "Modern Family"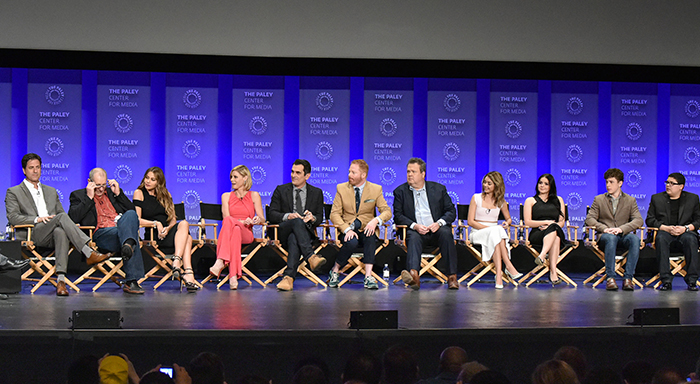 Actor Andy Daly (Review) hosts the stars and writers of Modern Family on BEHIND THE STORY this week, welcoming the fictional Dunphy and Pritchett families to the stage.
Daly asks the series' stars about the goals and challenges of portraying sitcom characters without veering into the cartoonish. "I try to make Claire [Dunphy] a little bit less Punch and Judy." Julie Bowen "I don't just have to stand there next to the refrigerator waiting for the guys to come back from some adventure."
"Everybody's working really hard to make sure that we're still doing new things… showing new sides to the characters," adds Ty Burrell.
Daly points out that the kids on the show do evolve by necessity as the actors age, and Ariel Winter agrees: "I love getting to grow up playing Alex [Dunphy] because I'm kind of going through the same things she is at the moment. Right now she's getting into college… I'm one year behind her. I get to apply to college and kind of have that experience as Alex first."
Other stars are surprised their characters exist on the show in the first place, such as Sofia Vergara, who highlights the rarity of a network TV lead being written "so Latin" and says, "I think it's amazing that the creators of the show, the writers, the network, to put somebody like me on national television on prime time."
Jesse Tyler Ferguson, who plays uptight lawyer and father Mitchell Pritchett, chimes in on the subject of his flawed and sometimes frustrating character's likability, "It's our job as actors to make those flaws that might be perceived as jarring, to make them likable."
Eric Stonestreet finds himself contemplating the series' themes and grateful he made it into the acting profession at all: "Thank God I had parents—which leads me to the part I get to play on the show—who were supportive and non-judgmental of me."
Daly asks executive producer Danny Zuker about his infamous summer Twitter war with prospective presidential candidate Donald Trump, wondering what it would take for the two to make up. "I would say something nice over his rotting corpse," Zuker admits.
View photos of the Modern Family episode.
Test your TV fandom with the Modern Family Quiz and Modern Family Quotes Quiz.