"BEHIND THE STORY" Recap: "Jane the Virgin"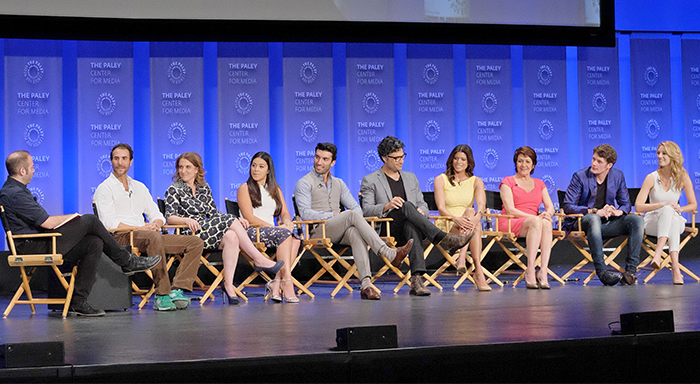 BuzzFeed editor Jarett Wieselman hosts the stars and writers of Jane the Virgin on BEHIND THE STORY at the Paley Center.
Wieselman asks creator and showrunner Jennie Snyder Urman what it was like casting the character whose name is in the show's title. "The performance you see in the pilot is the performance she came in and auditioned with," Urman says of star Gina Rodriguez. "There were no changes to make. It was awesome."
"I fell in love with Jane," Rodriguez explains. "Jane was incredible. Jane was a woman I wish I was more like." On the character's complexity: "You seldom get the opportunity to even audition for a woman that is so strong and powerful and fearless and driven… and a virgin."
Justin Baldoni adds his take on the experience of portraying love interest Marcus: "It's been humbling. Jennie writes these characters that always have a place to go. None of us know where our characters are going, but she gives us these little kernels in each episode that give us a chance to explore different aspects of what it is to really be a human."
"Jen and her team of writers, they're so brilliant," adds Jaime Camil, the actor behind Jane's estranged father, Rogelio de la Vega, "I'm very lucky because they write this beautiful character that is egocentric, vain, out of this world, but he has a lot of heart and he's very sincere and he loves family."
Andrea Novedo, who plays Jane's gregarious mother, Xo, shares the challenges of committing to a network series with her actual kids at home, as well as the benefits: "The best way to teach is by example. I think choosing to be an actor is one of the craziest ideas in the world, and what I've shown my children is there are no blocks except what you decide are the blocks."
Actress Ivonne Coll discusses her character Alba, Jane's pious undocumented immigrant grandmother: "I'm representing a demographic that really exists and we have to address that…. The fact that she is illegally here puts a face on all the hundreds of thousands of illegal immigrants that are here that are not criminals, that are hardworking people."
Gina Rodriguez rallies the already excited audience to wild applause with a call for Latino unity in Hollywood, "If we want to be considered and we want to use our power to the fullest, we need to unite. They see us as one community, we need to be one community. You know why? Because we all share the same struggle."
View photos of the Jane the Virgin episode.
Test your TV fandom with the Jane the Virgin Quiz and Jane the Virgin Quotes Quiz.